Will Covid-19 bring changes to Fifth Avenue? A look at ownership today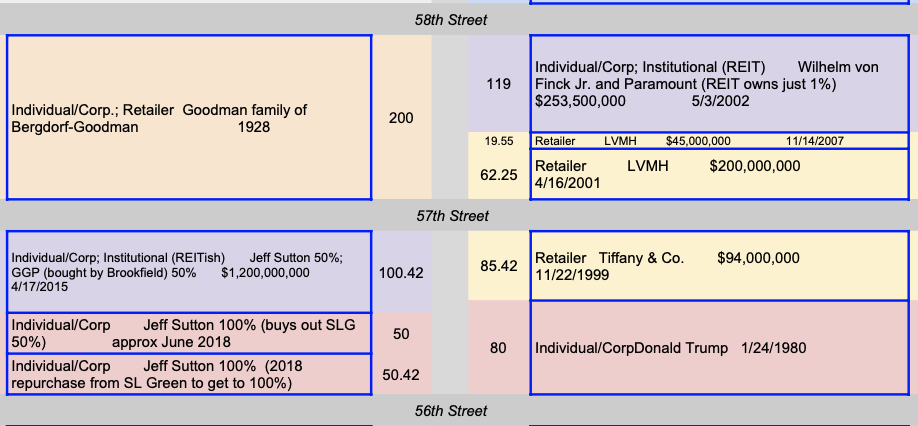 By Adam Pincus
The long-term impact of the coronavirus on the city's retail marketplace is being debated online, among brokers, owners, bankers and others.
The stretch of retail from Saks Fifth Avenue to the General Motors Building was ranked the second most expensive shopping district in the world last fall, behind Hong Kong.
Yet its values have been under pressure for several years as vacancies have risen and rents fallen, long before the outbreak. The pandemic is yet another factor that could force or induce current owners to sell properties
To see who the players are at this critical juncture, PincusCo took a close look at all 42 tax lots with property fronting Fifth Avenue from 49th Street to 59th Street. This analysis is part of the series of articles, called The Installment, covering retail in New York City, For more in the series, see here.
A pdf of the data showing both sides of the street, color coded to show the different types of ownership interests, is available to our Posts subscribers here. An Excel version of the data is available to our Basic Financing subscribers here.
There are 3,600 linear feet of buildings fronting Fifth Avenue from 49th Street to 59th Street.
Within those 10 blocks, about 500 linear feet are not open to retail, such as St. Patrick's Cathedral, the University Club, St. Thomas Church and the Fifth Avenue Presbyterian Church.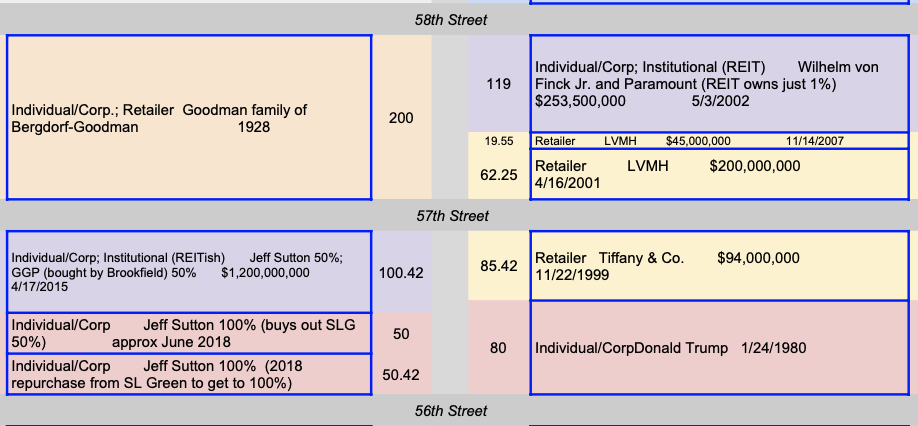 Additionally, 549 linear feet are owned by retailers. Such property owners include the global luxury conglomerate LVMH and the jewelry company Tiffany & Company. In addition, there are buildings that are mixed, such as 754 Fifth Avenue, the home to Bergdorf Goodman. The building is owned by the Goodman family and leased to the retailer's parent company. Another example is 712 Fifth Avenue, which is occupied by Harry Winston and owned in part by his heirs in partnership with the real estate investment trust Paramount Group. Finally, watchmaker Rolex owns 665 Fifth Avenue, but only occupies a portion of the store space, and other retail tenants lease frontage in the building. Finally Zara's parent company, Inditex owns the other large portion of the strip through a retail condominium, accounting for about 70 feet of frontage in 666 Fifth Avenue.
That leaves about 2,600 feet that investors can buy, sell and rent.
The majority of that frontage, totaling 1,833 feet, is owned in full or in part by individuals or non-institutional corporations such as Crown Acqusitions, Jeff Sutton or the German investor, Wilhem von Finck. About half of that, or 960 linear feet, if owned by the individual or corporation alone. The balance is owned in partnership with institutional firms.
In comparison, institutional firms such as Vornado Realty Trust, Brookfield Property Partners and Paramount Group, have a hand in 1,514 feet of that 2,600 feet. Such firms only own 334 linear feet without partnering with a non-institutional partner.
The Chera family's Crown Acquisitions has a stake in the greatest amount of linear feet along Upper Fifth Avenue, totaling 635 feet in nine properties. That does not mean it owns the most valuable retail property, or owns the most square feet or has the most valuable portfolio overall. That's a separate study that requires knowledge of partnership stakes in individual properties, and is beyond the scope of this analysis.
The Chera family's Crown, led by Stanley Chera, began investing in large New York City retail holdings in the 1980s. Its first publicly disclosed investment along Upper Fifth Avenue was a partnership deal with Jeff Sutton, Lloyd Goldman and Jeffrey Feil, when they partnered to buy the retail at 717 Fifth Avenue in 2004.
Crown acquired the bulk of its frontage, accounting for 435 linear feet in six properties, in April 2019. That's when Crown in partnership with Qatar Investment Authority bought a minority stake in Vornado's $5.6 billion dollar retail holdings. Crown's stake was reported to be 24 percent.
The next largest stake as measured by linear feet was Vornado, with 434 feet in six properties.
In third place was Jeff Sutton, president of Wharton Properties with 379 feet in five properties. Forbes ranks Sutton as the 179th richest person in the United States with $3.8 billion in assets, based largely on his Fifth Avenue holdings.
In fourth place was Tishman Speyer, with 240 linear feet along Fifth Avenue. Although Tishman Speyer and its partner the Chicago Crown family together own two, 200-foot block fronts, the buildings do not form a full street wall along Fifth Avenue, so total just 240 feet, according to the PincusCo calculation.
In fifth place is the REIT Paramount Group with an ownership stake in three properties with a total of 222 linear feet.
After that, only two firms hold more than two properties. The Canadian investment company Oxford Properties is a co-investor with Crown Acquisitions at three properties. And the Hong Kong investment firm Yeung Chi Shing Estates, Ltd. owns 673, 675 and 677 Fifth Avenue, which account for 100 feet of frontage.
The next Retail Installment will be a history looking at the buying and selling of these properties over the past 40 years or more.