CMBS trustee files $31.5M pre-foreclosure at reportedly half-vacant office building in Grand Central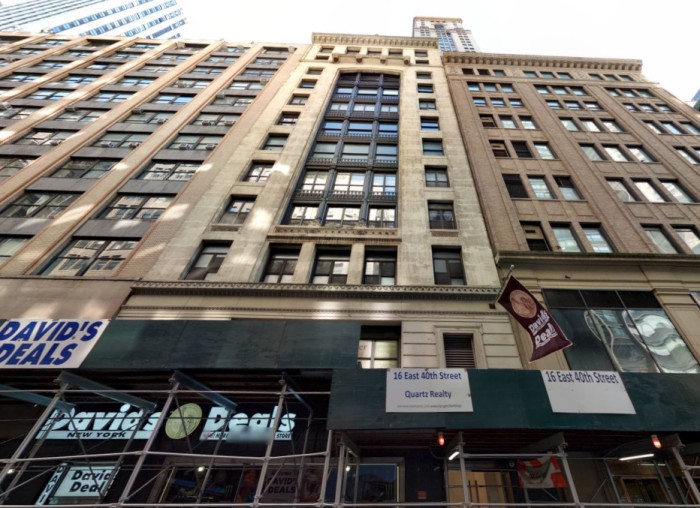 Wells Fargo as trustee for bondholders of a $31.5 million commercial mortgage-backed security filed a pre-foreclosure action against the owners of a reportedly half-vacant office building at 16 East 40th Street in Midtown. The case was filed September 13, 2023, in the Southern District of New York. Case 1:23-cv-08109-JGLC
Property owners Nader Hakakian and Albert Monasebian signed as guarantors at the time of the December 2016 loan origination, and borrowed $31.5 million from Deutsche Bank, which securitized the debt into Series 2017-CD3. Wells Fargo is the bondholders' trustee and K-Star Asset Management is the special servicer.
Hakakian and Monasebian sold a Garment District office building in December 2022 for $33 million to Meyer Equities and Ouni Mamrout.
Court records reflect the position of one party and are not necessarily accurate or complete.
According to the complaint, the lender alleges, "Beginning as early as October 1, 2020, Borrower was required to cause all rents to be transmitted directly by non-residential tenants of the Property into a "Clearing Account" at an eligible financial institution reasonably approved by Lender. Borrower failed to do so (such failures, the "Cash Management Defaults"). In addition, Borrower failed to make required monthly payments due under the Note starting on April 6, 2023 and every monthly payment due thereafter. Those failures also constituted Events of Default under the Loan Documents (the "Payment Defaults"). Upon information and belief, on or about August 15, 2022, the interest rate in effect under the Loan Documents increased to the Default Rate as a result of Borrower's defaults."
According to a Fitch Ratings report from June 2023 on Series 2017-CD3, "The second largest loan to transfer to special servicing since Fitch's prior rating action is 16 East 40th Street (2.6%), which transferred to special servicing in June 2023 and is currently 60-days delinquent. The loan is secured by a 96,182-sf office property in the Grand Central submarket of Manhattan, NY, and has experienced significant cash flow declines due to low occupancy. Occupancy reported at 42.7% as of YE 2022, with NOI DSCR at 0.47x. Fitch's 'Bsf' rating case loss of 4.0%, prior to concentration add-ons, reflects a value of $317 psf, and equates to an 8% cap rate off the pre-pandemic (2019) NOI."
Direct link to Acris document. link