SL Green pays $445M to Oxford Properties for office in Midtown East, last sold for $545M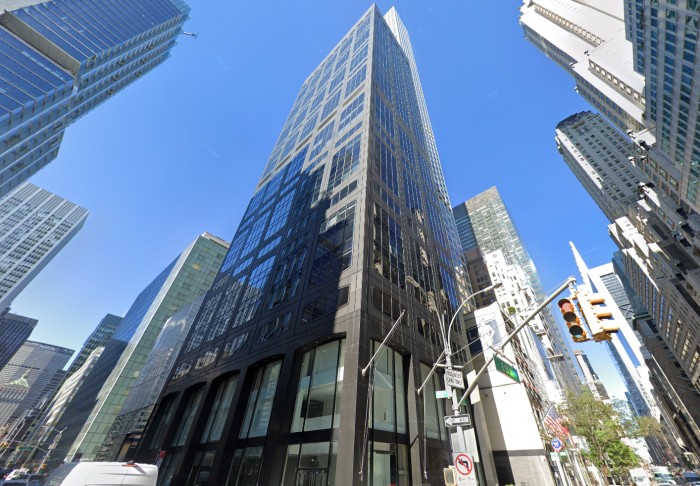 SL Green Realty through the entity 450 Park Fee Owner Lp paid $445 million to Oxford Properties Group through the entity 450 Property Owner (Us), LLC for office building (O4) at 450 Park Avenue in Midtown East, Manhattan. This is SL Green's first office building purchase since 2018, the Commercial Observer reported.
The deal closed on June 24, 2022 and was recorded on June 30, 2022. The property has 296,915 square feet of built space according to PincusCo analysis of city data. The sale price per built square foot is $1,498 per the PincusCo analysis. (The price per square foot analysis is the transaction price divided by square feet as reported in public records and assumes no air rights have been sold.)
The seller bought the property in May 2014 for $545.75 million. Crown Acquisitions teamed up with Oxford in that purchase. The signatories for Oxford Properties Group were Kristen Binck and Andy Field. The signatory for SL Green Realty was Andrew S. Levine. The Real Deal reported that SL Green was in talks to buy the property in March.
Prior sales and revenue
Prior to this transaction, Pincusco has records that the buyer SL Green Realty purchased five properties in five transactions for a total of $366.9 million and sold 16 properties in 13 transactions for a total of $1.5 billion over the past 24 months.
The seller Oxford Properties Group had not purchased any other properties and sold one properties in one transactions for a total of $2 billion over the same time period. The 296,915-square-foot property generated revenue of $45.4 million or $153 per square foot, according to the most recent income and expense figures.
The property
The 450 Park Avenue parcel has frontage of 133 feet and is 100 feet deep with a total lot size of 13,375 square feet. The zoning is C5-3 which allows for up to 15 times floor area ratio (FAR) for commercial and up to 10 times FAR for residential with inclusionary housing. The city-designated market value for the property in 2022 is $207.3 million.
Stay current in this unpredictable market with data.
– Daily lists of new buyers, sellers and lenders
– Weekly feed of new developments and offering plans
– Weekly feed of bankruptcies, foreclosures, note sales
… and over 20 different feeds to find your next deal
Violations and lawsuits
The property was involved in one lawsuit and zero bankruptcies over the past two years. The suit was a $3.3 million money judgment concerning an office lease, filed on June 1, 2021, by Oxford Properties Group. In addition, according to city public data, the property has received one DOB violation and $375 in OATH penalties in the last year.
Development
There are no active new building construction projects or major alteration projects with initial costs more than $5 million on this tax lot.
The neighborhood
In Midtown East, the majority, or 77 percent of the 65.7 million square feet of commercial built space are office buildings, with residential elevator buildings next occupying 8 percent of the space. In sales, Midtown East has 4 times the average sales volume among other neighborhoods with $1.1 billion in sales volume in the last two years and is the 10th highest in Manhattan. For development, Midtown East has 4 times the average amount of major developments relative to other neighborhoods and is the 4th highest in Manhattan. It had 3.6 million square feet of commercial and multi-family construction under development in the last two years, which represents 6 percent of the neighborhood's built space.
The block
On this tax block, PincusCo has identified the owners of two of the 26 commercial properties representing 366,650 square feet of the 2,418,741 square feet. The two identified owners are Trump Organization and Sheikh Hamad Bin Jassim bin Jaber Al-Thani.
The majority, or 89 percent of the 2 million square feet of built space are office buildings, with mixed-use buildings next occupying 7 percent of the space.
The seller
The PincusCo database currently indicates that Oxford Properties Group owned at least one commercial property with 449,876 square feet and a city-determined market value of $374.7 million. (Market value is typically about 50% of actual value.) The portfolio consists of at least a single office property. It is located in Manhattan.
Surrounding
Within a 400-foot radius of 450 Park Avenue, Pincusco identified 10 commercial real estate items of interests occurred over the past 24 months.
Of those 10 items, six were sales above $5 million totaling $170.3 million.
Of those 10 items, four were loans above $5 million totaling $1.1 billion. The most recent of the four was Tokyu Land Corporation which borrowed $467.5 million from Otera Capital secured by the 666,996-square-foot office building (O4) on 425 Park Avenue on January 7, 2022.
Direct link to Acris document. link