Ranking of most active architects in special Soho/Noho district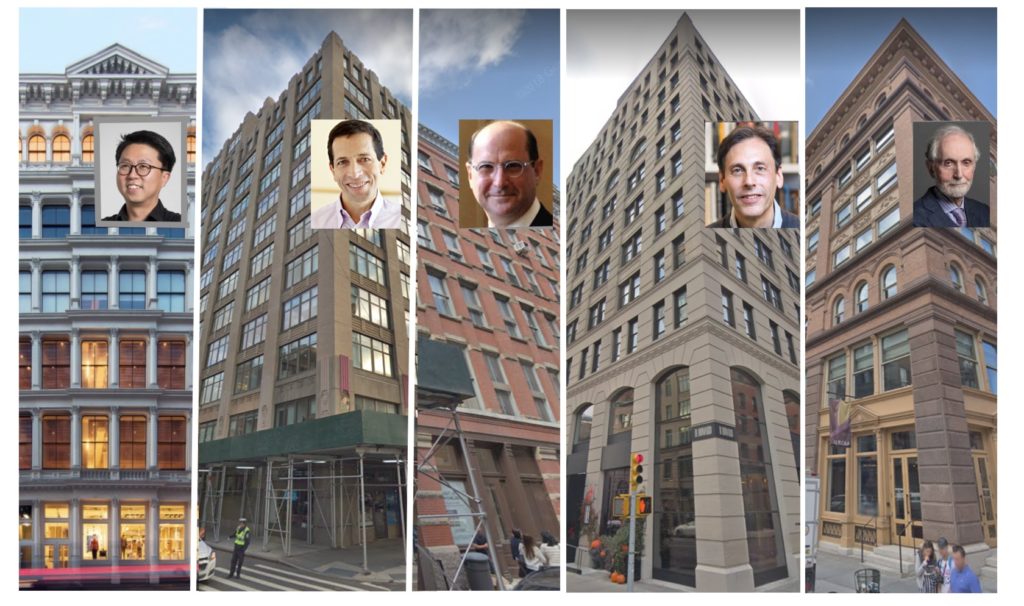 Global giant Gensler, local firms Michael Zenreich, among those that navigate the complex terrain
By Adam Pincus
One of first challenges for an architect working in Soho and Noho is not with design or the city's code. It's breaking the bad news to new clients. In one of the most in-demand residential neighborhoods in the city and one of the top shopping destinations in the world, those uses are in many cases prohibited.
"I tell them you can't live in Soho and you can't have a retail store in Soho. And they say what the hell are you talking about?" said Michael Zenreich, a veteran architect in the neighborhoods.
"It is complete disbelief. It's an international shopping center, and here is this dumb architect working for 40 years, and telling them it's illegal. I'm tired of that conversation," he said.

Zenreich is one of the city's architects who specializes in the area. To find out who were most active overall, PincusCo Media analyzed the city's Department of Buildings records from 2009 to mid-February this year, and used the value of construction to rank firms that had filed plans for two or more buildings during that time.
Construction in the area remains robust, last year hitting the second-highest level for alterations filed in the past 10 years (see related story here).
And the two neighborhoods are being eyed for a rezoning to make the city construction regulations more closely align with the current occupancy in the area. The proposal is controversial because some in Soho and Noho fear removing the current manufacturing-based zoning will open the floodgates to development and further crowd the area.
Yet, today the area is regulated as if it were the 1970s and 1980s, a gritty light manufacturing district packed with artists. To see who is most experienced working in the area, PincusCo identified the 10 most active firms doing work in the Soho/Noho district, including the total value of construction work over the past 10 years, the number of individual filings and the count of buildings the work was filed in. Each firm was presented the figures for comment and verification.
1) Studios Architecture — $42.6 million since 2009, 19 filings in four buildings
The firm filed plans within four buildings owned by three separate companies, with a total of 19 filings. The bulk of the work was for the children's publisher Scholastic, which moved to 555 Broadway under a lease signed in 1992, and later expanded to the adjacent 557 Broadway. Studios' work for Scholastic had a total value of nearly $36 million, city records show.
The most expensive filing was an A1 from 2015 valued at $15.3 million, for work on several floors of 555 Broadway. The second most valuable filing was another A1 from 2015, for a change in the certificate of occupancy (CO) at 557 Broadway, also on behalf of Scholastic, estimated at $5.2 million. The project included changing the use on the second floor to retail, and moving the lobby for the office portion of the building to Mercer Street.
The filing architects were David Burns and Tom Krizmanic. Krizmanic left in late 2016 for the giant design firm Gensler, but these filings were made before that.
Much of Studios' work has been office related or minor work for retail, such as moving a lobby to prepare for retail.
The firm's other clients were Trinity Real Estate, with work at 100 Sixth Avenue, and the owners of 584 Broadway.
2) TPG Architecture — $20.1 million, 45 projects, 24 buildings
Four architects from the firm, James Doherty, Frederic Strauss, Michael Hayes and Thomas Hughes, made the 45 filings since 2009. The firm concentrates on high-profile retail spaces, a review of the filings revealed.
The most expensive filing, from 2016, had an initial price of $4.7 million, and was to renovate and build out the interior space for Wharton Properties/Aurora Capital Associates's 529 Broadway, a six-story retail and office building. The developers put Nike in the entire 55,000-square-foot structure, with a rent that started at $16 million per year.
Other significant projects included work at the William Macklowe Company's 610 Broadway, a retail-focused job with an initial cost of $3.1 million. and the rehab of SL Green Realty properties at 115 Spring Street, 110 Greene Street and 102 Greene Street.
Other clients included Zar Property NY, Acadia Realty Trust, General Growth Properties, GFP Properties and others.
The most recent filing was made in January, and was to build out the retail space for the bank HSBC at Madison Capital's 19 East Houston. The largest filing in the last year was at 72 Spring Street, where Strauss filed a plan that included renovating the first floor retail space at 72 Spring Street.
3) Gensler — $15.56 million, in 39 filings and 16 buildings
The global architecture giant Gensler has done a handful of significant projects in the area, but has been less active during the past five years. Since 2013, the firm has filed only $3.4 million in projects, just a third of the $10 million filed in the prior five years.
The bulk of the filings were made by architect Joshua Katz https://www.gensler.com/people/joshua-katz. The firm's largest job in the past 10 years was an A2 filed at Trinity Real Estate's 100 Sixth Avenue in 2012, to renovate office floors for the hedge fund Two Sigma, with an initial cost of $2.3 million.
Most of the filings were for upper floors, but Gensler also did retail work, at United American Lands' 434 Broadway in 2013 and in Royal Crospin's 552 Broadway in a 2009 filing.
Gensler's Karen Solomon filed the firm's largest job within the past 12 months with an initial cost of $389,660. It was for alterations to office floors at 503 Broadway, owned by Heng Sang Realty, a company created in the 1980s by the Liang, Fung and Ng families.
4) Stonehill & Taylor Architects — $13.4 million, 9 filings in 4 buildings
Stonehill & Taylor's Paul Taylor filed eight of the nine applications. The largest had an initial cost of $13 million, and was filed in 2012 for the conversion of 708 Broadway from a loft building into a hotel for developer King & Grove. Instead, New York University bought the building in 2014 for $157.5 million. Kliment Halsband Architects filed a A1 plans on behalf of NYU to rehabilitate the 147,494 square foot building for its College of Global Public Health, with an initial cost of $47 million. It was Kliment Halsband's first filing in the district.
Stonehill & Taylor's second largest job, was an A1 to enlarge the first floor at London-based Firmdale Hotels' Crosby Street Hotel, at 79 Crosby Street, which has not yet been permitted.
That's not Taylor's first filing at 79 Crosby. He designed and in 2006 filed the new building plans for the Crosby Street Hotel on behalf of Firmdale. The new building at 79 Crosby Street, which opened in 2009, led to retail and other development east of Broadway.
Now, it's much harder to build a hotel in the Soho/Noho district, because of the de Blasio administration's new requirement for a special permit to develop a hotel in manufacturing districts.
"That's the end of hotel development in Soho," Taylor said. But he noted that if the rezoning goes through, that could change.
"If rezoned to eliminate this special permit, it would open up Soho hotel development again," he said.
5) CallisonRTKL — $12.3 million in 30 filings within 12 buildings
CallisonRTKL, the Baltimore-based architecture firm that is a subsidiary of the global design firm Arcadis based in Amsterdam, focuses on commercial build outs in Soho, but had only one CO conversion filing. The company had four architects filing plans, with Lee Hagen leading the team with 17 filings with a total cost of $5.1 million.
The firms top filing, made in 2015 with a $3.1 million, was by partner Eric Lagerberg at the retail condo at 503 Broadway, owned by Zara parent company Inditex. But that plan to rehabilitate the storefront, partition the space, make modifications to the stairs and other work, was permitted but then it was revoked. Subsequently, Lee Hagen made several filings, including one to change the CO for the building, which were completed, and which totaled $1.3 million.
Another project, at SL Green Realty's 131 Spring Street, illustrates rival firms working in concert. Kathleen Jordan of Gensler filed the A1 and Michael Rostowski of CallisonRTKL filed the A2 work, with an initial cost of $2 million
Hagen filed the largest job for the firm in the past 12 months, valued at $1 million. It was to renovate portions of floors 2, 3 and 4 of 530 Broadway, owned by Jeff Sutton's Wharton Properties and Joe Sitt's Thor Equities. The job was filed in December 2018. Two months earlier, they obtained a refinancing totaling $305 million for 530-536 Broadway.
6) PKSB Architects — $11.9 million with 27 filings in 17 buildings
Sherida Paulsen, a former Landmarks Preservation Commission chair, concentrates on retail spaces, and has been particularly active in recent years. Her three largest filings, all A1s, were applied for and permitted in 2017 and 2018. Paulsen was the filing representative for all the applications the firm submitted.
Her largest filing was at Premier Equities' retail condominium units at 60 Greene Street, an A1 job with an initial cost of $2 million, to convert the cellar to retail as well as renovation of the ground floor. But her top client is United American Land. Nine of the 17 buildings were for filings at UAL properties since 2012.
The second largest project, with a cost of $1.9 million was at United American Land and Thor Equities joint venture at 734 Broadway, to convert the basement to retail, and other work.
7) Stephen B. Jacobs Group — $11.36 million in 18 filings, in three buildings
The bulk of the work the firm did in the district was in one building, the Kushner Companies's 200 Lafayette Street, which accounted for nearly all the value. Jacobs' other A1 plan was filed to change the CO for the Zucker Organization's store space at 520 Broome Street to retail.
8) Beyer Blinder Belle — $10.7 million in 11 filings, in four buildings, including four A1s and one new building
Partner Richard Metsky filed the top application for the firm, with an initial cost of $3.3 million, at 734 Broadway in 2014. Extell Development, the owner, sought to renovate and convert the building giving it a retail and residential CO.
But that plan was abandoned and Extell sold the building to UAL and Thor purchased it in 2015 for $17 million.
Partner Carlos Cardoso filed the largest plan that was completed. Filed in 2014, the owner RFR Holding changed the uses on several floors at its hotel at 138 Lafayette Street, including the lower level and the first floor.
Another plan that was abandoned was to add floors to 45 Great Jones Street as an A1. But that plan, filed in 2012, was formally withdrawn and instead the existing building was demolished in 2013 but the developer maintained the three-story facade intact, per a proposal approved by the city's Landmarks Preservation Commission. Metsky then filed about a month later a plan to build a new, eight-story, 13,491-square foot residential and retail building, which was completed in 2015.
For Metsky, navigating the zoning and landmarking regulations for 45 Great Jones, was not much different than projects in other landmarked districts in the city. But he said 734 Broadway was different.
"That was more complicated. We got it through Landmarks. But instead, they sold," he said of Extell.
9) Michael Zenreich — $9.6 million in 57 filings covering 24 buildings
Michael Zenreich is the most active architect, in terms of the volume of projects, among the top 10 firms. He also works on a wide range of projects, including retail, office and residential. He filed all the projects under his name. His largest filing, made in 2017, was an A2 at Zar Property NY's 105 Wooster Street, to renovate the retail space. The initial cost was $1.6 million. His second largest job was an A1 project filed at another Zar Property building, this one at 38 Greene Street. The project, with an initial cost of $1.2 million, was filed in 2014 and remains an active permit, DOB records show.
In addition, Zenreich filled five other A1 plans. Two of them were withdrawn, including one for nearly $1 million at 138 Wooster Street, filed in 2010, several years before Aurora Capital Associates purchased the building.
Zenreich gave examples of how the zoning intent to preserve manufacturing can be skirted with clever legalisms. Since the law uses the language "may not be located below the floor level of the second story," all one-story buildings have no such restrictions.
"There's nothing illegal. It does not say ground floor, it says below second-floor ceiling."
10) Marin Architects — $8.3 million, 24 projects and five buildings
The largest filing from Walter Marin's Marin Architects was an A1 that had an initial cost of $4.6 million, and was filed in early 2013 to change the CO of Jeff Greene's 62 Wooster Street from commercial to seven apartments above and retail below. The work was substantially completed in 2015.
That building needed substantial reenforcing because the foundation was settling, causing curvature in the building.
Marin partner Minkuk Kim said the approval process was long, but having the support of the local community board helped.
"The challenge was the hearings. It was two years between [Department of City Planning] and Landmarks," Kim said.
Marin's largest filing over the past year was at RFR Holding's 350 Lafayette Street, which the investment firm bought in 2015 for $26 million. The filing, an A2 with an initial cost of $750,000, was submitted in October 2018, and proposed work on the second, third and fourth floors. A Marin filing from earlier in 2018 covered the first floor retail and lower level and was priced at $219,000.