Nightingale, Friedland lose 645 Madison to lender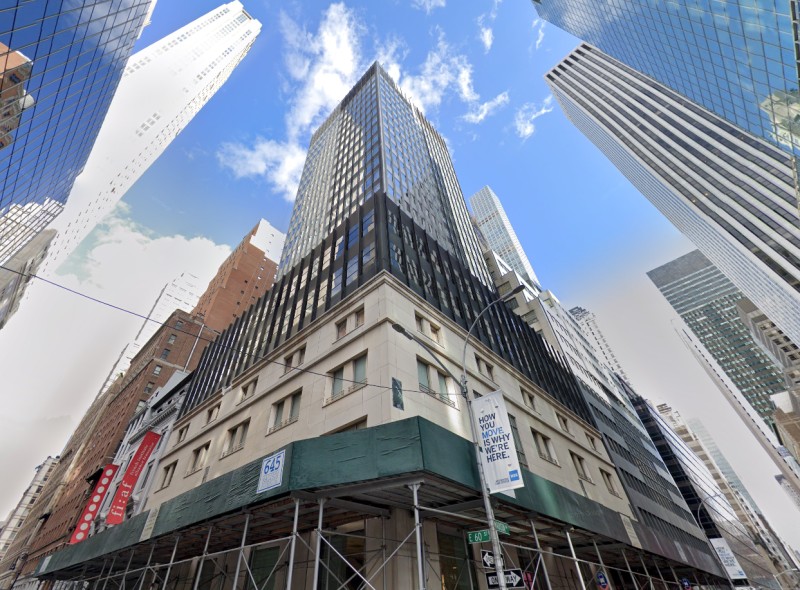 By Varvara Budetti
East West Bank is taking over Friedland Properties and Nightingale Properties' leasehold of 645 Madison Avenue, valued at $79.6 million, in an assignment of lease in lieu of foreclosure.
The former owners acquired the ground lease to the 164,615-square-foot building in 2015 for $76 million from TF Cornerstone.
In September 2019, the New York Post reported the owners sought to sell the building for as much as $120 million, but found no takers.
The building was owned by Friedland Properties and Nightingale Properties along with Bill Ackman, who leads the hedge fund Pershing Square Capital Management.
For Ackman, the investment was a personal one, not through the fund, the Post reported at the time. Nightingale declined to comment. Friedland did not immediately respond to a request for comment.
Since they acquired the building, there were nearly 50 Department of Buildings renovation projects filed for the building totaling more than $13 million that have been either permitted or completed.
The fee interest in the property is owned by the entity BLR Madison LLC which has shareholders Richard Grossman, Loomis Grossman, Richard Baker and Lauren Richman.
Lisa Kim, general counsel and corporate secretary of East West Bank was the signatory through the entity EWB-II, LLC. William Friedland, a principal of Friedland Properties signed for the joint venture with Nightingale Properties through the entity NG 645 Madison Ave LLC. The transfer closed on September 24, 2021 and was recorded today, on September 30, 2021.
East West Bank could not be immediately reached for comment.
The 2015 purchase was financed with $50 million in loans from East West Bank, including $5 million in construction loans.
The property has 164,615 square feet of built space according to PincusCo analysis of city data. The transfer price per built square foot is $483 per the PincusCo analysis. (The price per square foot analysis is the transaction price divided by square feet as reported in public records and assumes no air rights have been sold.
The DOB issued a major alteration (A1) initial temporary certificate of occupancy for the building on March 9, 2021.
Within a 400-foot radius of 645 Madison Avenue, PincusCo identified 11 commercial real estate items of interests occurred over the past 24 months. Of those 11 items, one was for major renovation including a certificate of occupancy change. It was a permit issued on December 11, 2019 for the $4.8 million renovation of 11,272-square-foot A-2 building with no residential units at 36 East 61st Street.
Five were sales above $5 million totaling $94 million. The most recent of the five was Pearexnyc LLC which bought one condo unit in the 4,628-square-foot, 43-unit mixed-use building (RD) on 520 Park Avenue for $22.5 million from Zeckendorf Development on September 13, 2021.
Five were loans above $5 million totaling $858 million. The most recent of the five was Alessandro Bonecchi which borrowed $20.0 million from Principal Life Insurance Company secured by the 7,540-square-foot, nine-unit rental (C7) on 36 East 60th Street and two other properties on March 19, 2021.
Direct link to Acris document. link