Lender Heitman Capital acquires Meadow Partners' Williamsburg office building valued at $46M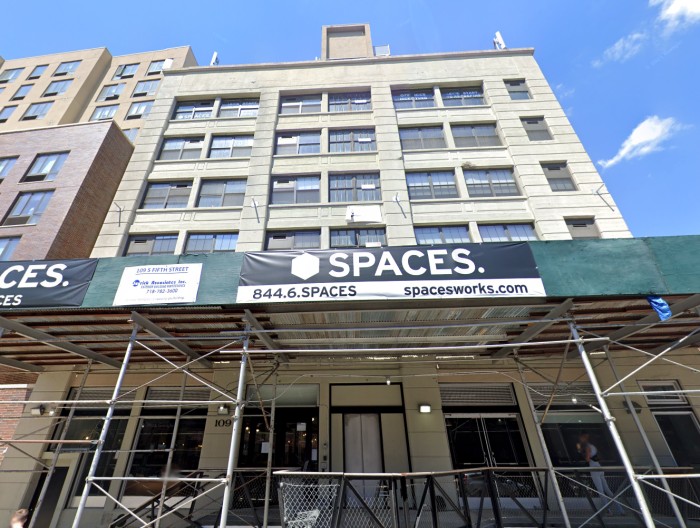 Lender Heitman Capital Management through the entity Heitman Credit Acquisition XXII, LLC acquired from Meadow Partners through the entity 109 South 5 Property LLC the office building (O5) at 109 South 5th Street in Williamsburg, Brooklyn, in a transfer valued at $46 million.
Meadow Partners bought the property on September 22, 2015, for $42 million. The signatory for Meadow Partners was Timothy Yantz. The signatory for Heitman Capital Management was Jonathan Lindell.
Although the former lender Heitman Credit took control of the property, Meadow continues to owe on the loan, according to the deed transfer. There are no legal proceedings in New York State court, a review of court records shows. Meadow Partners bought the office building in 2015 for $42 million, planning to attract tech tenants with an open floor plan, and in 2017 refinanced it with Heitman Capital with $40.8 million in debt and in 2021 amended that agreement and restated the principal at $40.8 million.
Heitman Capital previously filed to foreclose on a separate Meadow Partners property, the Renwick Hotel. Meadow sold the ground lease to the Renwick in April 2022 for $15.6 million. 
While residential rents in Brooklyn have surged since the pandemic, office space has not returned to pre-Covid levels, according to brokers. Investment in the Brooklyn office market was very strong in the prior boom, from about 2014 to 2018.
The deal closed on June 9, 2022 and was recorded on July 1, 2022. The property has 63,033 square feet of built space according to PincusCo analysis of city data. The sale price per built square foot is $729 per the PincusCo analysis. (The price per square foot analysis is the transaction price divided by square feet as reported in public records and assumes no air rights have been sold.)
Prior sales and revenue
Prior to this transaction, PincusCo has no record that the buyer Heitman Capital Management had purchased any other properties and has no record it sold any properties over the past 24 months.
The seller Meadow Partners purchased eight properties in seven transactions for a total of $540.8 million and sold (or otherwise disposed of) six properties in five transactions for a total of $107.8 million over the same time period. The 63,033-square-foot property generated revenue of $4 million or $64 per square foot, according to the most recent income and expense figures.
The property
The 109 South 5th Street parcel has frontage of 72 feet and is 116 feet deep with a total lot size of 10,450 square feet. The lot is irregular. The zoning is M1-2/R6 which allows for up to 2 times floor area ratio (FAR) for manufacturing and up to 2.43 times FAR for residential. The city-designated market value for the property in 2022 is $30.3 million.The most recent loan totaled $40.8 million and was provided by Heitman LLC on January 29, 2021.
Stay current in this unpredictable market with data.
– Daily lists of new buyers, sellers and lenders
– Weekly feed of new developments and offering plans
– Weekly feed of bankruptcies, foreclosures, note sales
… and over 20 different feeds to find your next deal
Violations and lawsuits
There were no lawsuits or bankruptcies filed against the property since September of 2020. In addition, according to city public data, the property has received four DOB violations, $2,400 in ECB penalties, and $5,000 in OATH penalties in the last year.
Development
For the tax lot building, it received its initial alteration certificate of occupancy on May 13, 2014. There are no active new building construction projects or major alteration projects with initial costs more than $5 million on this tax lot.
The neighborhood
In Williamsburg, the bulk, or 40 percent of the 56.3 million square feet of commercial built space are residential elevator buildings, with residential walkup buildings next occupying 22 percent of the space. In sales, Williamsburg has 4.5 times the average sales volume among other neighborhoods with $1.4 billion in sales volume in the last two years and is the 2nd highest in Brooklyn. For development, Williamsburg is the 8th most active neighborhood among other neighborhoods. It had 5.2 million square feet of commercial and multi-family construction under development in the last two years, which represents 9 percent of the neighborhood's built space. There were two pre-foreclosure suit filed among other office buildings in the past 12 months.
The block
On this tax block, PincusCo has identified the owners of six of the 14 commercial properties representing 204,090 square feet of the 326,782 square feet. The largest owner is Meadow Partners, followed by Heidi Holterbosch and then JR Property Holdings. There are no active new building construction projects on this tax block.
The majority, or 55 percent of the 245,362 square feet of built space are residential elevator buildings, with office buildings next occupying 30 percent of the space.
The seller
The PincusCo database currently indicates that Meadow Partners owned at least 28 commercial properties with 1,392,367 square feet and a city-determined market value of $341.2 million. (Market value is typically about 50% of actual value.) The portfolio has $493.9 million in debt, with top three lenders as Fortress Investment Group, Heitman LLC, and Sterling National Bank respectively. Within the portfolio, the bulk, or 52 percent of the 1,392,367 square feet of built space are office properties, with elevator properties next occupying 13 percent of the space. The bulk, or 55 percent of the built space, is in Brooklyn, with Manhattan next at 45 percent of the space.
Surrounding
Within a 400-foot radius of 109 South 5th Street, PincusCo identified eight commercial real estate items of interests occurred over the past 24 months.
Of those eight items, one was in new building development. It was a new building permit issued on February 5, 2021 for a 64,390-square-foot R-1 building with 216 residential units at 361 Bedford Avenue.
Of those eight items, one was for major renovation including a certificate of occupancy change. It was a permit issued on October 20, 2020 for the $1.1 million renovation of 5,224-square-foot R-2 building with four residential units at 89 South 4th Street.
One of those eight items was a sale which Joel Rubin bought the 26,902-square-foot, 21-unit rental (D6) on 364 Bedford Avenue for $15 million from Israel Perlmutter on July 30, 2021.
Of those eight items, five were loans above $5 million totaling $112.2 million. The most recent of the five was Eleizer Schwimer and Moses Guttman which borrowed $11.2 million from Lightstone Group secured by the 2,850-square-foot, three-unit three-family building (C0) on 92 South 4th Street and nine other properties on June 17, 2022.
Direct link to Acris document. link