Lalezarian Properties pays $6.8M for retail in Murray Hill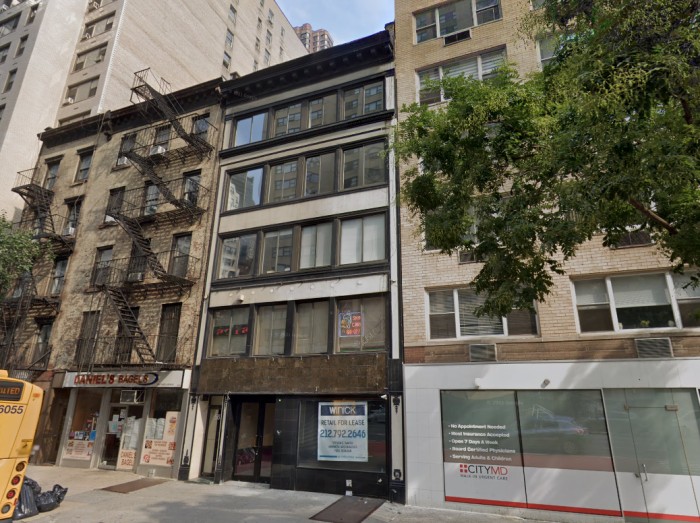 Lalezarian Properties through the entity Midtown 3rd Avenue LLC paid $6.8 million to Evans Cyprus through the entity 567 3rd Ave LLC for midblock retail building at 567 Third Avenue in Murray Hill, Manhattan. The building is between a residential cooperative building and a commercial property owned by Lloyd Goldman's BLDG Management. The parcel also abuts a property owned by the government of Romania.
The deal closed on April 8, 2022 and was recorded on April 19, 2022.
The property has 9,300 square feet of built space and 16,601 square feet of additional air rights for a total buildable of 25,900 square feet according to PincusCo analysis of city data. The sale price per built square foot is $731 and the price per buildable square foot is $262 per the PincusCo analysis. (The price per square foot analysis is the transaction price divided by square feet as reported in public records and assumes no air rights have been sold.)
The signatory for Evans Cyprus was Sarah Vinei. The signatory for Lalezarian Properties was the attorney Andrew Albstein. The entity Midtown 3rd Avenue LLC had a registration at Lalezarian Properties' address.
Prior sales and revenue
The 9,300-square-foot property generated revenue of $464,331 or $50 per square foot, according to the most recent income and expense figures.
The property
The 567 3rd Avenue parcel has frontage of 24 feet and is 105 feet deep with a total lot size of 2,590 square feet. The zoning is C1-9 which allows for up to 2 times floor area ratio (FAR) for commercial and up to 10 times FAR for residential with inclusionary housing. The city-designated market value for the property in 2022 is $1.9 million.
Violations and lawsuits
The property was not involved in any lawsuits or bankruptcies in the past years. In addition, according to city public data, the property has not received any significant violations in the last year.
Development
There are no active new building construction projects or major alteration projects with initial costs more than $5 million on this tax lot.
The neighborhood
In Murray Hill, the majority, or 66 percent of the 15.8 million square feet of commercial built space are residential elevator buildings, with office buildings next occupying 16 percent of the space. In sales, Murray Hill has had very little sales volume relative to other neighborhoods with $89.5 million in sales volume in the last two years. For development, Murray Hill has had very little major development activity relative to other neighborhoods.It had 95,534 square feet of commercial and multi-family construction under development in the last two years, which represents 0.60 percent of the neighborhood's built space.
The block
On this tax block, PincusCo has identified the owners of six of the 38 commercial properties representing 156,056 square feet of the 597,748 square feet. The largest owner is Ion Mustatea, followed by Betty Mossanen and then BLDG Management. There are no active new building construction projects on this tax block.
The majority, or 89 percent of the 360,288 square feet of built space are residential elevator buildings, with retail buildings next occupying 4 percent of the space.
The buyer
The PincusCo database, which is incomplete, currently indicates that Lalezarian Properties owned at least six commercial properties with 745,578 square feet and a city-determined market value of $234.2 million. (Market value is typically about 50% of actual value.) The portfolio has $418.4 million in debt, with top three lenders as JPMorgan Chase, New York Community Bank, and Wells Fargo respectively. Within the portfolio, the bulk, or 93 percent of the 745,578 square feet of built space are residential elevator properties, with development properties next occupying 6 percent of the space. The bulk, or 56 percent of the built space, is in Manhattan, with Brooklyn next at 44 percent of the space.
Surrounding
Within a 400-foot radius of 567 3rd Avenue, PincusCo identified five commercial real estate items of interests occurred over the past 24 months.
One of those five items was a sale which Shahzad Mossanen bought the 36,020-square-foot, 48-unit rental (D3) on 207 East 37th Street and one other property for $24.8 million from Shahzad Mossanen on October 15, 2021.
Of those five items, four were loans above $5 million totaling $126.5 million. The most recent of the four was Townhouse Management Company which borrowed $52.5 million from White Oak Real Estate secured by one condo unit in the 98,769-square-foot, 135-unit mixed-use building (RM) on 554 3rd Avenue on January 13, 2022.
Direct link to Acris document. link