HUD's Section 8 subsidizes $9K monthly rents at Vornado's Independence Plaza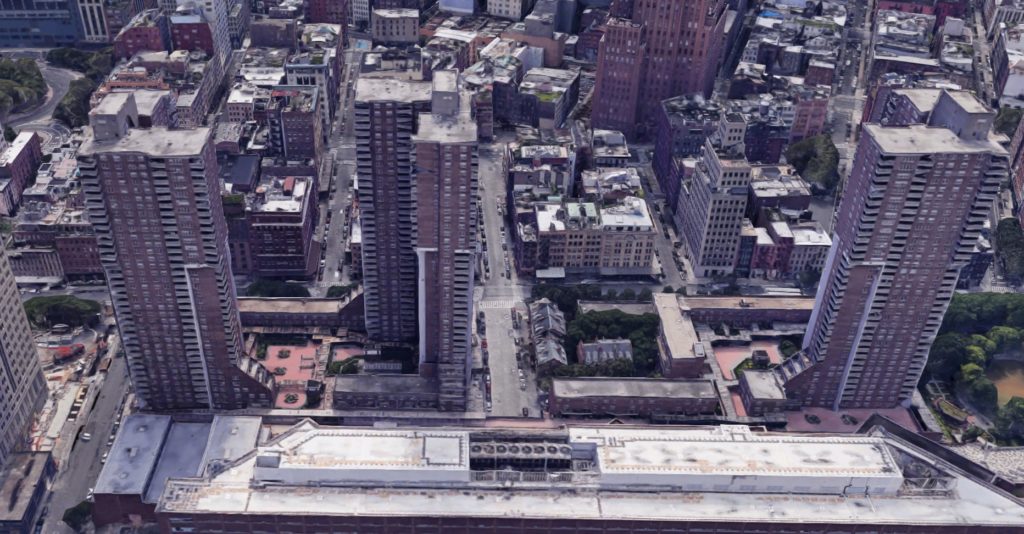 Federal government pays millions to landlords above regular subsidy caps
HUD dollars bridge conflicting policy goals of a diverse city and a free market
By Adam Pincus
The federal government's Section 8 rental support program is subsidizing rents as high as $9,024 per month at Vornado Realty Trust and Stellar Management's Independence Plaza North, a mostly market-rate complex in Tribeca, 2018 loan documents reveal.
According to the 2018 prospectus for a $675 million loan to the property, the average subsidized rent for a three-bedroom apartment was more than $9,000, while the average for a two-bedroom was $5,706, and a one-bedroom was $4,290.
That means the city's Department of Housing Preservation and Development, using U.S. Housing and Urban Development funds, is likely paying Vornado and Stellar $7,000 or more per month for those $9,000 per month rents, $4,000 for those two-bedrooms and $3,000 for those one-bedrooms. That's according to an analysis by PincusCo Media.
While the federal Section 8 enhanced voucher program that supports this structure is well known and underpins the city's critical mission to have a diverse population even in high-cost neighborhoods, the magnitude of the funding has not been previously reported.
In part it has not been reported because neither the city nor HUD provides complete and transparent information on the enhanced voucher program, unlike the robust information provided for the regular Section 8 program.
Even long time housing advocates, very familiar with the enhanced voucher program, were nonetheless surprised to hear how high Section 8 rents had gone.
"Wow," said Thomas Waters, housing policy analyst at the housing advocacy group Community Service Society, on hearing the $9,000 figure.
"They should have designed Section 8 ahead of time so that wouldn't happen. So you would not have to pay $5,000 to keep tenants from being evicted," Waters said. "I don't like it, but I don't like the alternative."
HOW WE GOT HERE
Independence Plaza North is a complex of three towers, a row of townhouses, a school and retail space with a total of 1,327 units and 1.5 million square feet west of Greenwich Street between North Moore and Duane streets. The development, which includes the address 310 Greenwich Street and others, was built in 1974 under the state's affordable housing Mitchell-Lama program, and obtained a mortgage insured by the Federal Housing Administration.
The Mitchell-Lama program, created through legislation in 1955, had the goal of developing moderate-income housing for New Yorkers through real estate tax breaks as well as low-interest loans. Later, the law was amended to allow developers to exit the program after 20 years once the loans had been paid in full. Tenants in federally financed Mitchell-Lama projects such as Independence Plaza that exited the program could get Section 8 enhanced vouchers or if they did not qualify for that, the "landlord assistance program" known as LAP, which pegged rent increases to the Rent Guidelines Board's annual increases. The enhanced vouchers make up the difference between what the government says a tenant should pay — approximately 30 percent of income — and the market rate.
That spread has no limit, unlike a regular Section 8 voucher.
In 2003, Laurence Gluck's Stellar Management purchased Independence Plaza for a reported $156 million, and in March 2004, he hammered out a plan with the tenants association that gave the Section 8 enhanced vouchers to about two thirds of the units and the LAP structure to the other third. But included in the deal was that any apartment that became vacated would immediately become a market rate unit.
In June 2004 he removed the complex from the Mitchell-Lama program.
Then in 2011, Vornado purchased a portion of the property's debt, and in 2012 formally took an ownership stake.
As of May 2018, about half the units had become market rate, with 671 fair market units, 346 Section 8 units, 307 LAP units and three employee units, according to the loan documents.
Of the Section 8 units, there were three three-bedroom units with an average rental rate of $9,024; 77 two-bedroom units with an average of $5,706 per month; 237 one-bedroom units with an average of $4,290; and 29 studios with an average of $3,168 per month.
The change from LAP and Section 8 is not fast, the loan documents show. Since 2012, 59 LAP units changed to market, for an annual average turnover rate of about 2.9%. As for Section 8, 111 units changed to market at an annual average turnover rate of about 4.5%.
Approximately $18 million of the the $61.5 million in rent revenue was from Section 8 tenants last year, the loan documents show. It's likely that more than half of that $18 million is from HUD, with the balance being paid by the tenant. The exact ratio is not available.
The complex, with an underwritten net operating income of $44.3 million, was appraised at $1.285 billion last year.
"The funding of enhanced vouchers represents a policy choice that the extra expenditure is justified by the goal of preventing the complete gentrification and in some cases segregation of "high opportunity" neighborhoods with correspondingly high market rents," Ed Josephson, director of litigation and housing at Legal Services NYC, wrote in an email.
NOT THE REGULAR SECTION 8
There are many former Mitchell-Lama complexes in New York City where tenants are protected from market rents though enhanced vouchers. The city's HPD pegs the number of households it managed with enhanced vouchers at 5,416, or 13 percent of HPD's total of 39,919 Section 8 vouchers.
Another large enhanced voucher portfolio is Brookfield Asset Management and Urban American Management's upper Manhattan Putnam Portfolio, which is currently on the market for more than $1.5 billion, and that has approximately 1,800 enhanced Section 8 tenants among the 3,968 units in the 26-building portfolio.
With a regular Section 8 voucher, known as a Standard Housing Choice Voucher, the maximum the government will pay is capped by fair market rent guidelines that cap the overall rent, or by a maximum through HUD's "payment standards" that cap the subsidy HUD will pay, by region or by Zip Code.
For example in the Independence Plaza Zip Code of 10013, the maximum subsidy for a three-bedroom is $2,686. But the enhanced vouchers have no maximum, and so the government is likely paying about $7,000 per month for a three-bedroom in Independence Plaza. That means the enhanced vouchers are paying, in the three-bedroom example, more than $4,000 above the standard Section 8 level.
While there is no upper limit or cap on enhanced vouchers, there is a relative cap, and that's the non-subsidized apartments in the building. Each year, the enhanced Section 8 landlords can petition for an increase — or notify of a decrease — in the rent for each unit.
The landlord provides three comparable apartments for each Section 8 unit, and submits that to HPD. The comparable units can be in the neighborhood but of the three, at least one comparable must in the building, and the Section 8 rent cannot exceed the non-subsidized unit rent in the building.
For the Putnam Portfolio, from the period between 2014 and 2018, the average Section 8 unit's rental rate increased between 16 percent and 35 percent, depending on apartment size and whether the unit was rehabilitated, a city source told PincusCo.
With enhanced vouchers rents can even decline, if for example the Section 8 rent was pegged to a non-subsidized apartment that was vacated and could no longer be used as a comparable rent.
At Independence Plaza, PincusCo estimates that at least $6 million is being spent by HUD for Section 8 enhanced vouchers above what would be spent for a regular voucher.
Some advocates see the enhanced vouchers as a boondogle for landlords, because it supports private owners more generously than public housing.
"They'd rather subsidize private profit than fix public housing," said Judith Goldiner, attorney in charge of the civil law reform unit at the Legal Aid Society.
Housing attorney Stuart Lawrence said that enhanced vouchers should not be compared to regular tenant-based Section 8, but instead be seen as a result of past decisions to put time limits on affordability restrictions when for-profit subsidized housing projects were developed.
"Addressing the problem of the expiration of restrictions has meant shoveling vast sums of federal money to for-profit owners whether they stayed in the project-based subsidy program or left," Lawrence said in an email.