Hirshmark buys $5.1M note secured by Baruch Singer's mixed-use building in Lower East Side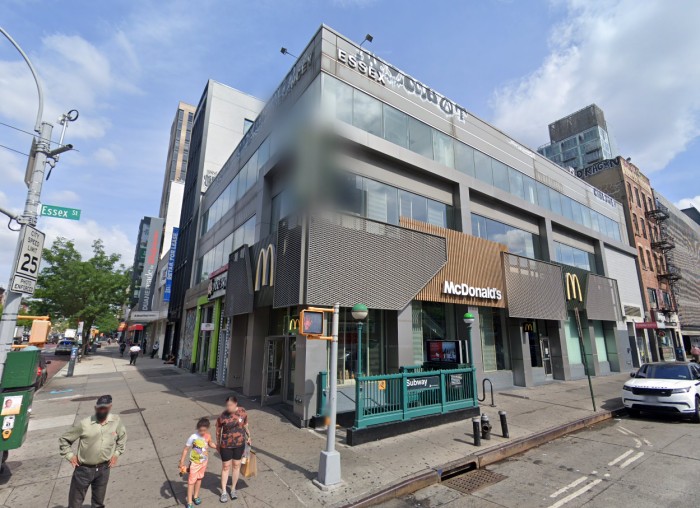 Hirshmark Capital through the entity 114 Delancey Funding LLC bought a note with an original principal of $5.1 million from Kearny Bank secured by Baruch Singer's mixed-use building (K4) at 114 Delancey Street in Lower East Side, Manhattan.
The deal closed on July 19, 2022 and was recorded on August 1, 2022. The prior lender was Kearny Bank which held debt that had an original loan amount of $5.1 million. The property has 23,040 square feet of built space and 16,144 square feet of additional air rights for a total buildable of 39,190 square feet according to PincusCo analysis of city data.
This is an assignment of a loan with an original principal of $5.1 million originated in 2017 by Clifton Savings Bank.
Prior sales and revenue
The 23,040-square-foot property generated revenue of $1.4 million or $63 per square foot, according to the most recent income and expense figures.
The property
The 114 Delancey Street parcel has frontage of 65 feet and is 100 feet deep with a total lot size of 6,510 square feet. The zoning is C6-2A which allows for up to 6 times floor area ratio (FAR) for commercial and up to 6.02 times FAR for residential with inclusionary housing. The city-designated market value for the property in 2022 is $6.5 million.
Stay current in this unpredictable market with data.
– Daily lists of new buyers, sellers and lenders
– Weekly feed of new developments and offering plans
– Weekly feed of bankruptcies, foreclosures, note sales
… and over 20 different feeds to find your next deal
Violations and lawsuits
There were no lawsuits or bankruptcies filed against the property since September of 2020. In addition, according to city public data, the property has received $12,645 in OATH penalties in the last year.
Development
For the tax lot building, it received its initial certificate of occupancy on August 28, 2019. There are no active new building construction projects or major alteration projects with initial costs more than $5 million on this tax lot.
The neighborhood
In Lower East Side, the bulk, or 50 percent of the 23.9 million square feet of commercial built space are elevator buildings, with walkup buildings next occupying 21 percent of the space. In sales, Lower East Side has 2.7 times the average sales volume among other neighborhoods with $893.4 million in sales volume in the last two years and is the 16th highest in Manhattan. For development, Lower East Side has 2.8 times the average amount of major developments relative to other neighborhoods and is the 9th highest in Manhattan. It had 3 million square feet of commercial and multi-family construction under development in the last two years, which represents 12 percent of the neighborhood's built space. There was one pre-foreclosure suit filed among other mixed-use buildings in the past 12 months.
The block
On this tax block, PincusCo has identified the owners of 11 of the 44 commercial properties representing 129,930 square feet of the 716,726 square feet. The largest owner is Delshah Capital, followed by Ron Glazer and then SMA Equities. There is one active new building construction project totaling 29,437 square feet. It is a 29-unit, 29,437-square-foot R-2 building developed by David Escava with plans filed September 30, 2014 and permitted September 18, 2017.
The majority, or 34 percent of the 602,329 square feet of built space are walkup buildings, with specialty buildings next occupying 22 percent of the space.
Direct link to Acris document. link