Artifact pays $18.1M to Angie Cayer for industrial in Harlem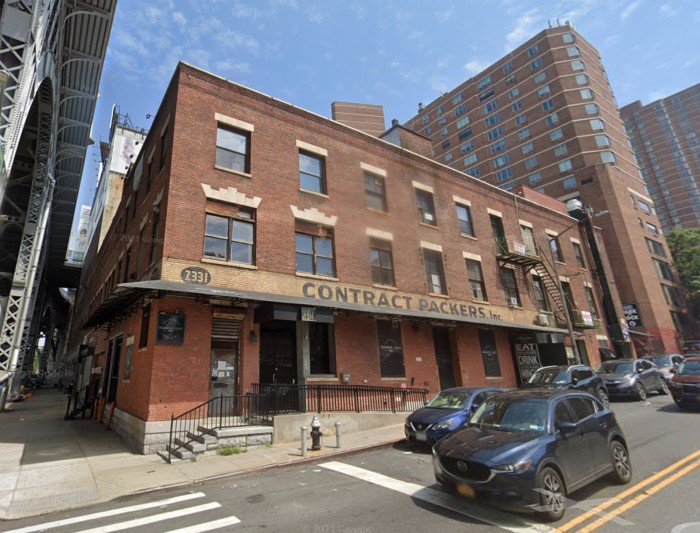 Development firm Artifact through the entity 2335 12 Avenue, LLC paid $18.1 million to Angie Cayer through the entity 12th Avenue, LLC for the corner industrial building at 2337 12th Avenue in Harlem, Manhattan.
The deal closed on March 3, 2022 and was recorded on March 16, 2022.The property has 22,500 square feet of built space and 23,265 square feet of additional air rights for a total buildable of 45,770 square feet according to PincusCo analysis of city data. The sale price per built square foot is $802 and the price per buildable square foot is $394 per the PincusCo analysis. (The price per square foot analysis is the transaction price divided by square feet as reported in public records and assumes no air rights have been sold.)
The signatory for Angie Cayer was Angie Cayer. The signatory for Artifact was Javier Martinez. The contract date was July 7, 2020, nearly two years ago. Artifact and another entity owned by Ashok "Chuck" Khubani, the founder of the consumer products company OnTel, bought the parcel as tenants in common, with Artifact owning 88.4 percent and Khubani owning 11.6 percent.
The property
The 2337 12th Avenue also known as 2337 Joe Dimaggio Highway parcel has frontage of 60 feet and is 125 feet deep with a total lot size of 7,603 square feet. The zoning is C6-2 which allows for up to 6 times floor area ratio (FAR) for commercial and up to 6.02 times FAR for residential. The city-designated market value for the property in 2022 is $2.2 million.
Violations and lawsuits
The property was not involved in any lawsuits or bankruptcies in the past years. In addition, according to city public data, the property has not received any significant violations in the last year.
Development
There are no active new building construction projects or major alteration projects with initial costs more than $5 million on this tax lot.
The neighborhood
In Harlem, the bulk, or 42 percent of the 99.7 million square feet of built space are residential elevator buildings, with residential walkup buildings next occupying 24 percent of the space. In sales, Harlem has 2.2 times the average sales volume among other neighborhoods with $607.8 million in sales volume in the last two years and is the 20th highest in Manhattan. For development, Harlem has 2.8 times the average amount of major developments relative to other neighborhoods and is the 5th highest in Manhattan. It had 2.6 million square feet of commercial and multi-family construction under development in the last two years, which represents 3 percent of the neighborhood's built space.
The block
On this tax block, PincusCo has identified the owners of six of the 10 commercial properties representing 359,949 square feet of the 604,166 square feet. The largest owner is StorageMart, followed by Tahl Propp Equities and then Goldmont Realty. There are no active new building construction projects on this tax block.
The majority, or 29 percent of the 654,554 square feet of built space are industrial buildings, with specialty buildings next occupying 27 percent of the space.
The buyer
The PincusCo database, which is not complete, currently indicates that Artifact owned at least three commercial properties with 39,630 square feet and a city-determined market value of $3.9 million. (Market value is typically about 50% of actual value.) The portfolio has $21.1 million in debt, borrowed from ConnectOne Bank and Bank Hapoalim. Within the portfolio, the bulk, or 48 percent of the 39,630 square feet of built space are industrial properties, with office properties next occupying 36 percent of the space. They are all located in Manhattan.
Surrounding
Within a 400-foot radius of 2337 Joe Dimaggio Highway, Pincusco identified four commercial real estate items of interests occurred over the past 24 months.
Of those four items, three were sales above $5 million totaling $168.3 million. The most recent of the three was Columbia University which bought the 41,347-square-foot, one-unit mixed-use building (K2) on 2328 Joe Dimaggio Highway for $25.2 million from Glickberg Family on January 26, 2022.
One of those four items was a loan which StorageMart borrowed $298.4 million from Barclays secured by the 213,330-square-foot, one-unit industrial (E7) on 2351 12th Avenue and two other properties on January 6, 2022.
Direct link to Acris document. link