Wiczyk family pays $3.4M to Walter B. Koppel for gas station in Jackson Heights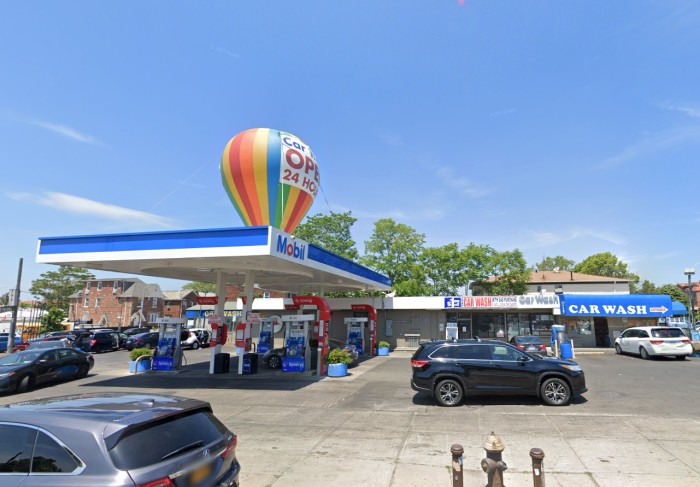 The Wiczyk family through the entity WF Northern LLC paid $3.4 million to Walter B. Koppel through the entity WBK, LLC for the gas station (G5) at 76-29 Northern Boulevard in Jackson Heights, Queens.
The deal closed on July 12, 2022 and was recorded on July 20, 2022. The property has 2,464 square feet of built space and 17,600 square feet of additional air rights for a total buildable of 20,000 square feet according to PincusCo analysis of city data. The sale price per built square foot is $1,379 and the price per buildable square foot is $170 per the PincusCo analysis. (The price per square foot analysis is the transaction price divided by square feet as reported in public records and assumes no air rights have been sold.)
The seller bought the property on June 9, 2010, for $1.7 million. The signatory for Walter B. Koppel was Walter B. Koppel. The signatory for the Wiczyk family was Robert A. Korren.
Prior sales and revenue
Prior to this transaction, PincusCo has no record that the buyer Rowie Wiczyk had purchased any other properties and sold two properties in one transactions for a total of $4.2 million over the past 24 months.
The seller Walter B. Koppel had not purchased any other properties and had not sold any properties over the same time period.
The property
The 76-29 Northern Boulevard parcel has frontage of 200 feet and is 100 feet deep with a total lot size of 20,000 square feet. The zoning is C8-1 which allows for up to 1 times floor area ratio (FAR) for commercial The city-designated market value for the property in 2022 is $1.6 million.
Stay current in this unpredictable market with data.
– Daily lists of new buyers, sellers and lenders
– Weekly feed of new developments and offering plans
– Weekly feed of bankruptcies, foreclosures, note sales
… and over 20 different feeds to find your next deal
Violations and lawsuits
There were no lawsuits or bankruptcies filed against the property since September of 2020. In addition, according to city public data, the property has received $500 in ECB penalties and $500 in OATH penalties in the last year.
Development
There are no active new building construction projects or major alteration projects with initial costs more than $5 million on this tax lot.
The neighborhood
In Jackson Heights, the bulk, or 42 percent of the 16.3 million square feet of commercial built space are elevator buildings, with walkup buildings next occupying 19 percent of the space. In sales, Jackson Heights has had very little sales volume relative to other neighborhoods with $172.9 million in sales volume in the last two years. For development, Jackson Heights has had very little major development activity relative to other neighborhoods.It had 440,141 square feet of commercial and multi-family construction under development in the last two years, which represents 3 percent of the neighborhood's built space.
The block
There are no active new building construction projects on this tax block.
All properties are industrial.
The buyer
The PincusCo database currently indicates that Roee Wiczyk owned at least one commercial property in New York City with 2,400 square feet and a city-determined market value of $2.8 million. (Market value is typically about 50% of actual value.) The portfolio consists of at least a single industrial property. It is located in Manhattan.
Direct link to Acris document. link