TARGO Capital pays $16.8M for two walkups in Alphabet City, last sold for $20M in 2015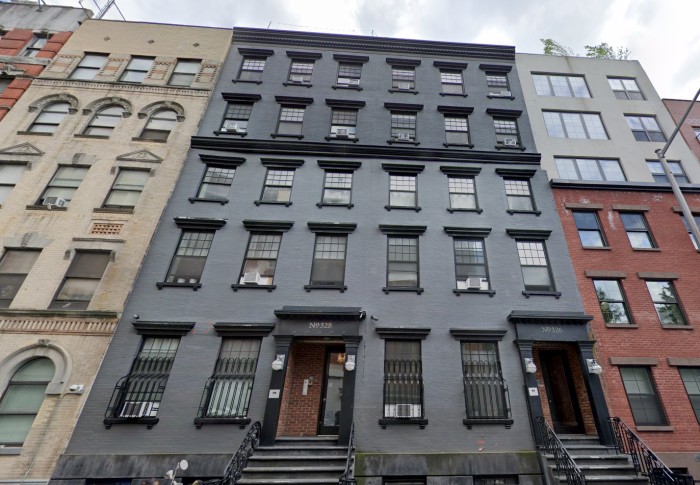 TARGO Capital Partners through the entity 326-328 E4 Property Owner LLC paid $16.8 million to to South Carolina investors in care of Greenwich-based Mill Management through the entity SFP Fawn Holdings LLC and 1881 East Fourth Street LLC for the 10-unit residential walkup building (C1) at 326 East 4th Street in Alphabet City, Manhattan and 10-unit residential walkup building (C1) at 328 East 4th Street in Alphabet City, Manhattan.
The deal closed on August 4, 2022 and was recorded on August 11, 2022. The two properties have 17,250 square feet of built space and 396 square feet of additional air rights for a total buildable of 17,632 square feet according to PincusCo analysis of city data. The sale price per built square foot is $973 and the price per buildable square foot is $952 per the PincusCo analysis. (The price per square foot analysis is the transaction price divided by square feet as reported in public records and assumes no air rights have been sold.)
The signatory for Mill Management was Stephen J. Schacter. The signatory for TARGO Capital Partners was David Gleitman.
The seller bought the properties on November 17, 2015, for $20 million from Icon Realty Management. Mill Management is the asset manager, not the beneficial owner. According to reports from 2015, a South Carolina investor bought the building from Icon Realty Management, then the asset was put in care of Steven Schacter's Mill Management of Greenwich. The property was managed by an affiliate of Jonis Realty, called Citi Urban Management. That same South Carolina investor recently sold 82 Second Avenue in the East Village for $7.5 million to Dalan Management, down from the 2015 purchase price of $10.9 million.
Because multiple properties have been transacted, some of the following sections will follow the property with the largest assessed value, which in this case, is the property on 326 East 4th Street.
Prior sales and revenue
Prior to this transaction, PincusCo has records that the buyer TARGO Capital Partners purchased five properties in four transactions for a total of $43.5 million and has no record it sold any properties over the past 24 months.
The former property representatives according to the Department of Housing Preservation and Development include Lukasz Stapor, head officer and Sylvio Grima, site manager. The business entity is Fawn East Fourth Llc. The two properties with a total of 17,250 square feet of built space generated revenue of $744,338 per year or $43 per square foot. The sale price per square foot was $974.
The property
The 326 East 4th Street parcel has frontage of 22 feet and is 96 feet deep with a total lot size of 2,204 square feet. The zoning is R8B which allows for up to 4 times floor area ratio (FAR) for residential. The city-designated market value for the property in 2022 is $3.5 million.
Stay current in this unpredictable market with data.
– Daily lists of new buyers, sellers and lenders
– Weekly feed of new developments and offering plans
– Weekly feed of bankruptcies, foreclosures, note sales
… and over 20 different feeds to find your next deal
Violations and lawsuits
There were no lawsuits or bankruptcies filed against the properties since September of 2020. In addition, according to city public data, the properties have received one housing violation and $13,050 in OATH penalties in the last year.
Development
For the tax lot buildings, two out of the two buildings received a initial certificate of occupancy in the last ten years. There are no active new building construction projects or major alteration projects with initial costs more than $5 million on this tax lot.
The block
On the tax block of 326 East 4th Street, PincusCo has identified the owners of three of the 15 commercial properties representing 42,300 square feet of the 254,059 square feet. The largest owner is Ron Cohen, followed by GP Properties and then Tai Kong Inc..
There are no active new building construction projects on this tax block.
The majority, or 50 percent of the 254,059 square feet of built space are elevator buildings, with walkup buildings next occupying 31 percent of the space.
The buyer
The PincusCo database currently indicates that TARGO Capital Partners owned at least five commercial properties in New York City with 43,010 square feet and a city-determined market value of $29.7 million. (Market value is typically about 50% of actual value.) Within the portfolio, the bulk, or 87 percent of the 43,010 square feet of built space are walkup properties, with mixed-use properties next occupying 13 percent of the space. They are all located in Manhattan.
Direct link to Acris document. link