Rabsky Group seeking city air rights to greatly expand DUMBO project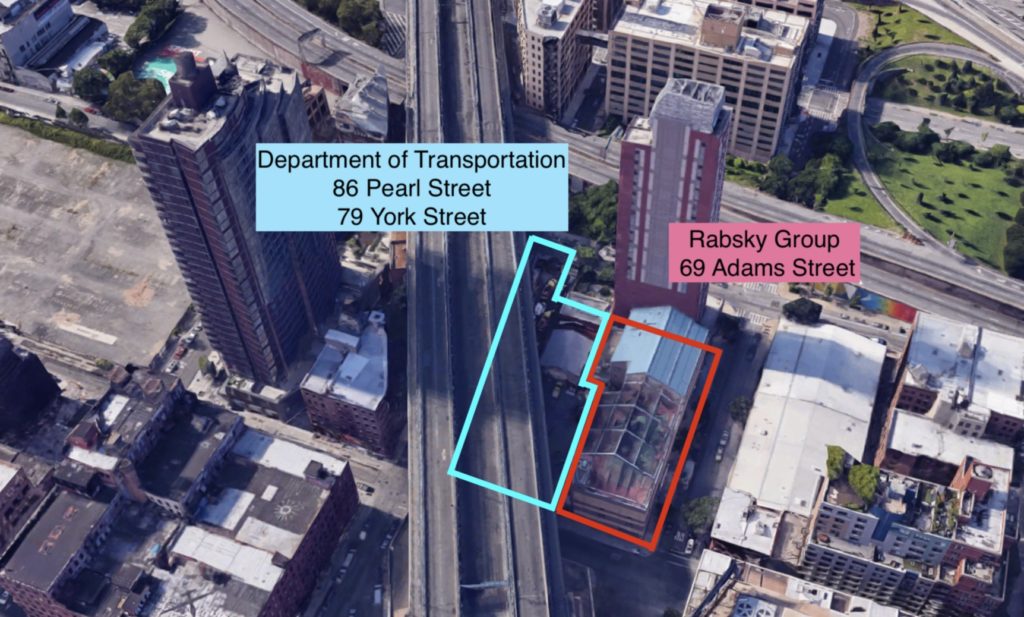 NYC DOT has 218K sf that could be added to Rabsky's 157K site adjacent to Manhattan Bridge
By Adam Pincus
The Rabsky Group is looking to buy air rights from the city that it would combine with its Dumbo parcel at 69 Adams Street, which has 157,410 square feet of development potential as of right, according to a review of city lobbying records.
It is not known how many square feet the Rabsky Group wants to buy, but the city's Department of Transportation owns two parcels next door which have up to 218,008 square feet available.
The city's Economic Development Corporation issued a request for proposals in 2017 that offered up those 218,008 square feet, and the only site that can use the air rights is Rabsky's parcel.
Were Rabsky to buy some or all of those additional air rights, it could result in a massive tower with as much as 375,000 square feet, however the site is constrained by several factors including how close it is to the Manhattan Bridge.
Rabsky Group has become one of the most active developers in the city, with commercial and residential developments and properties. It is moving ahead with development even as the city has seen uneven demand for new construction.
Among its larger projects are 625 Fulton Street, where the firm is looking to rezone and build a 1.8-million-square-foot project with a public school as well as office and residential uses;  and in partnership with Joel Gluck's Spencer Equity, the firm is starting on an eight-building project in South Williamsburg with 1,146 residential units.
The Williamsburg-based developer, led by Simon Dushinsky and Isaac Rabinowitz, purchased 69 Adams Street in November 2016 for $65 million from the Jehovah's Witnesses.
In September 2017, the city's Economic Development Corporation issued a request for proposals for the two DOT parcels, with a response deadline of November 2017.
In October 2017, the developer retained the land use law firm Slater & Beckerman to lobby various city agencies and government officials in its effort to acquire air right from the DOT site. Rabsky has paid $40,705 so far to the law firm, city lobbying records show, including just over $2,000 in January and February 2019.
This is not Rabsky's only dealing with the city's DOT recently. In January, Rabsky was close to finalizing a deal to lease a 92,000 square foot industrial building at 101 Varick Street in East Williamsburg to the city agency, the Commerical Observer reported.
As part of its lobbying strategy, Slater & Beckerman has contacted or intends to contact members of the City Council, the Department of City Planning, local Community Board 2 and others, but the disclosure list does not include EDC or the DOT. The law firm declined to comment.
The city has made no public statement on the status of the rfp, which is no longer available to view on its website. The EDC did not immediately respond to a request for comment.
Robert Perris, district manager for Community Board 2 in Brooklyn, where the parcel is located, said he has not heard from EDC on progress, despite repeated requests for information.
Furthermore, Perris said he could not recall a conversation with Rabsky about this topic, even as he said he's had conversations with the firm about other projects.
Rabsky's Dumbo site is complex not only because it is adjacent to the Manhattan Bridge which presents construction challenges but also in the event the developer buys air rights from the EDC, the city is making a series of demands on the developer.
In the rfp, titled the Dumbo Manhattan Bridge Development Rights, the city is asking the developer (or any entity that responded to the rfp) to "maximize office development," and hire locally. If it has residential units, it would be expected to have an affordable housing component. The project should not be closer than 50 feet from the bridge, even as the parcel 69 Adams Street is right next to it.
Brian Strout, a broker with City Center Real Estate who specializes in air rights, is not involved with this project, but said, "If there would be some deal to be reached with Rabsky, it would most likely include some aspect of affordable housing to coincide with Mayor de Blasio's key focus of generating affordable housing."
The rfp also requires a detailed analysis of the project's business plan, with pro-forma cash flows extending out for 10 years.
In order to buy the air rights through EDC, the buyer will also have to submit the project to the city's environmental quality review and the uniform land use review procedure, according to the rfp.