Prime Finance buys $40M note secured by Nolita mixed-use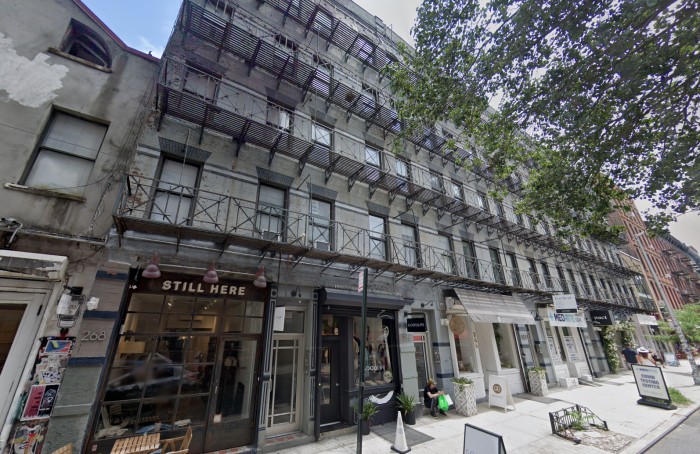 Lender and note buyer Prime Finance through the entity PFSS 260 Elizabeth LLC bought a note with an original principal of $40 million from Investors Bank secured by Galil Management's 5-building portfolio in Nolita, Manhattan, including the eight-unit walkup building (C6) at 264 Elizabeth Street, the 10-unit walkup building (C6) at 268 Elizabeth Street and the eight-unit residential walkup building (C7) at 260 Elizabeth Street. The complete list of addresses is 260, 262, 264, 266 and 268 Elizabeth Street.
The deal closed on September 29, 2022 and was recorded on November 7, 2022. The prior lender was Investors Bank which held debt that had an original loan amount of $40 million. The five properties have 38,609 square feet of built space and 24,906 square feet of additional air rights for a total buildable of 63,517 square feet according to PincusCo analysis of city data.
Galil Management, then E&A Associates, bought the buildings which include valuable retail, for $61.25 million in 2015.
In a separate but similar transaction, Prime Finance on September 29, 2022, bought a note with an original principal of $52 million secured by Pink Stone Capital Group's Downtown Brooklyn rental building at 180 Nassau Street, and on November 9, 2022, filed a pre-foreclosure action at the property.
Because multiple properties have been transacted, some of the following sections will follow the property with the largest assessed value, which in this case, is the property on 264 Elizabeth Street.
Prior sales and revenue
The owner according to the Department of Housing Preservation and Development is Joel Goldstein, head officer. The business entity is 260 Elizabeth Street Portfolio LLC.
The property
The 264 Elizabeth Street parcel has frontage of 23 feet and is 87 feet deep with a total lot size of 2,079 square feet. The zoning is C6-2 which allows for up to 6 times floor area ratio (FAR) for commercial and up to 6.02 times FAR for residential. The city-designated market value for the property in 2022 is $5 million.
Violations and lawsuits
There were no lawsuits or bankruptcies filed against the properties since September of 2020. In addition, according to city public data, the properties have received four DOB violations, $4,375 in ECB penalties, 29 housing violations, and $5,325 in OATH penalties in the last year.
Development
For the tax lot buildings, one out of the five buildings received a initial certificate of occupancy in the last ten years. There are no active new building construction projects or major alteration projects with initial costs more than $5 million on this tax lot.
The neighborhood
In Nolita, the bulk, or 49 percent of the 3.1 million square feet of commercial built space are walkup buildings, with elevator buildings next occupying 21 percent of the space. In sales, Nolita has had very little sales volume relative to other neighborhoods with $120.2 million in sales volume in the last two years. For development, Nolita has had very little major development activity relative to other neighborhoods.It had 76,039 square feet of commercial and multi-family construction under development in the last two years, which represents 2 percent of the neighborhood's built space. There were three pre-foreclosure suit filed among other walkup buildings in the past 12 months.
The block
On the tax block of 264 Elizabeth Street, PincusCo has identified the owners of 13 of the 38 commercial properties representing 112,481 square feet of the 301,291 square feet. The largest owner is Kenneth Podziba, followed by Nexus Building Development Group and then Croman Real Estate.
On the tax block, there was one new building construction project filed totaling 19,523 square feet. It is a five-unit, 19,523-square-foot R-2 building developed by Yaniv Cohen with plans filed December 15, 2015 and permitted December 22, 2017.
The majority, or 49 percent of the 288,894 square feet of built space are mixed-use buildings, with walkup buildings next occupying 34 percent of the space.
The borrower
The PincusCo database currently indicates that Galil Management owned at least 13 commercial properties in New York City with 1,042,029 square feet and a city-determined market value of $72.3 million. (Market value is typically about 50% of actual value.) The portfolio has $43.5 million in debt, borrowed from Arbor Realty Trust and New York Community Bank. Within the portfolio, the bulk, or 74 percent of the 1,042,029 square feet of built space are walkup properties, with elevator properties next occupying 26 percent of the space. The bulk, or 62 percent of the built space, is in Bronx, with Manhattan next at 17 percent of the space.
Direct link to Acris document. link