Michael Dell fund invests about $100M in David Werner, Cammeby's Midtown co-op fee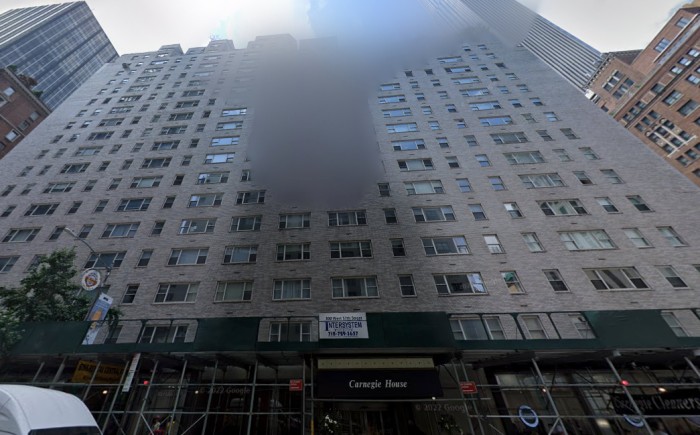 UPDATED 10:20 a.m., November 10, 2023: MSD Partners, which manages some of Michael Dell's assets, made a preferred equity investment of approximately $100 million this month in the fee position under the 324-unit Carnegie House cooperative at 100 West 57th Street in Midtown West, according to sources with knowledge of the deal.
Michael Dell, through MSD Capital (now known as DFO Management) and MSD Partners, which invests on behalf of Michael Dell and other firm investors, has been actively buying and lending in New York City over the past several years.
MSD Partners is an affiliate of BDT & MSD Partners, which is a merchant bank run by Byron Trott and Gregg Lemkau, and formed from Trott's BDT & Company and MSD Partners, which was formed in 2009 to invest for Michael Dell, his family and other investors.
The fee is owned by a joint venture of David Werner Real Estate and Rubin Schron's Cammeby's International Group, which bought the ground under the co-op in 2014 for $286 million.
The Carnegie House co-op is the ground tenant under a ground lease that has a rent reset coming on March 15, 2025, when the rent is expected to be increased from the approximately $4.4 million now to approximately $27 million per year or more, according to a lawsuit filed in 2022 by a co-op unit owner. The exact amount of the new rent has not been disclosed and the lawsuit uses different figures including up to $31 million. In 2014, the ground lease reset was expected to be approximately $21.2 million.
The investment by BDT & MSD Partners' firm represents a vote of confidence that neither the 2022 lawsuit seeking to restrict the rent increase nor a proposed law in the New York State Assembly to restrict ground lease rent increases, would succeed.
The approximately $100 million investment was arranged by Robert Verrone of Iron Hound Management, with Jonathan Mechanic of Fried, Frank, Harris, Shriver & Jacobson handling the legal aspects of the deal. Verrone and a representative from Cammeby's declined to comment. MSD Capital and Fried, Frank did not immediately respond to a request for comment.
The entity MSD Capital is now formally known as DFO Management, for Dell Family Office, according to the firm's website. Michael Dell is also affiliated with BDT & MSD Partners, which is an investment advisor that allows outside investors to participate in the firm's investments.
Werner and Cammeby's bought the fee in 2014 for $286 million, and financed the deal with a $180 million loan from French bank Natixis, which later packaged the debt into four commercial mortgage backed securities, including Series 2015-NXS2. According to that prospectus, at the loan closing in 2014 the total debt and equity was composed of the $180 million loan and $124.138 million in equity.
Correction: An earlier version of this article reported the Dell-affiliated investor was MSD Capital, but in fact it's BDT & MSD Partners.
Direct link to the property's ACRIS page.