JDS Development signs $238.8M condo inventory loan with Apollo for 47 unsold units at 111 West 57th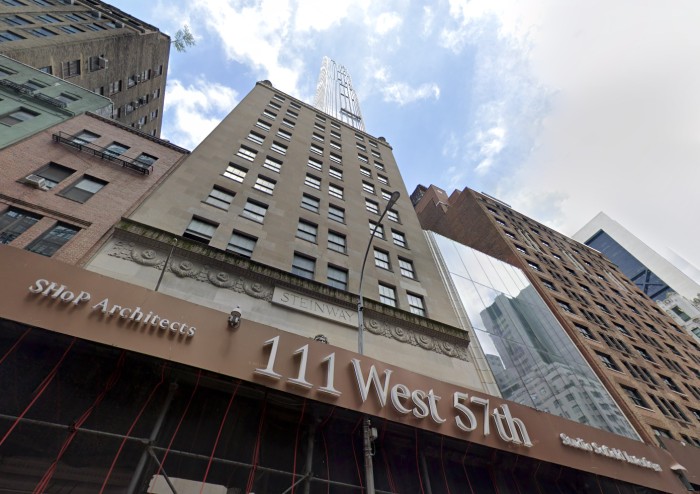 JDS Development Group through the entity 111 West 57th Property Owner LLC as borrower signed a condo inventory loan with lender Apollo Global Management through the entity Acrefi Holdings J-I, LLC valued at $238.8 million for 49 condo units composed of 47 unsold residential apartments and two commercial condo units at 111 West 57th Street in Midtown West, Manhattan. The building has 60 residential condo units.
In this transaction, Apollo refinanced a 2105 construction loan with an original principal of $400 million. Apollo was also the mezzanine construction lender, providing $325 million in 2015, as Crain's reported at the time.
The deal closed on August 10, 2022 and was recorded on September 1, 2022. The prior lender was AIG which held debt that had an original loan amount of $400 million. The 49 condo units have 266,639 square feet of built space according to PincusCo analysis of city data. The loan price per built square foot is $895 per the PincusCo analysis. (The price per square foot analysis is the transaction price divided by square feet as reported in public records and assumes no air rights have been sold.)
The signatory for JDS Development Group was Kevin Maloney and Michael Z. Stern. The signatory for Apollo Global Management was Jeffrey Horowitz.
Stay current in this unpredictable market with data.
– Daily lists of new buyers, sellers and lenders
– Weekly feed of new developments and offering plans
– Weekly feed of bankruptcies, foreclosures, note sales
… and over 20 different feeds to find your next deal
Development
On these lots, there is one active major alteration construction project for a 60-unit, 305,734-square-foot R-2 building. The project was developed by Michael Stern with plans filed August 6, 2013 and permitted June 23, 2015.
The block
On the tax block of 111 West 57th Street, PincusCo has identified the owners of five of the 48 commercial properties representing 312,502 square feet of the 1,541,269 square feet. The largest owner is ABR Investment Partners, followed by S.W. Management and then Extell Development.
There are two active new building construction projects totaling 1,555,607 square feet. The largest is a 1,502,992-square-foot B building developed by Kenneth Horn with plans filed November 13, 2019 and it has not been permitted yet. The second largest is a 41-unit, 52,615-square-foot R-2 building developed by Michael Loeb with plans filed November 12, 2015 and it has not been permitted yet.
The majority, or 57 percent of the 1.2 million square feet of built space are elevator buildings, with hotel buildings next occupying 28 percent of the space.
Direct link to Acris document. link