Jason Quinn pays $1.9M for mixed-use in Ridgewood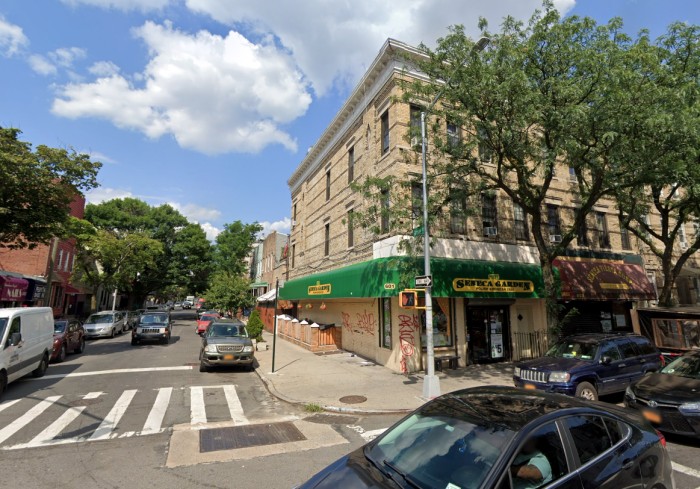 Jason Quinn through the entity 601 Seneca LLC paid $1.9 million to Zenon Baranek's Baranek LLC for the four-unit mixed-use building (S4) at 601 Seneca Avenue in Ridgewood, Queens.
The deal closed on October 25, 2022 and was recorded on October 28, 2022. The property has 5,500 square feet of built space according to a PincusCo analysis of city data. The sale price per built square foot is $342 per the PincusCo analysis. (The price per square foot analysis is the transaction price divided by square feet as reported in public records and assumes no air rights have been sold.)
Prior sales and revenue
The former owner according to the Department of Housing Preservation and Development is Zenon Baranek, head officer. The business entity is Baranek Llc. The 5,500-square-foot property generated revenue of $113,630 or $21 per square foot, according to the most recent income and expense figures.
The property
The 601 Seneca Avenue parcel has frontage of 25 feet and is 90 feet deep with a total lot size of 2,250 square feet. The zoning is R6B which allows for up to 2 times floor area ratio (FAR) for residential with inclusionary housing. The city-designated market value for the property in 2022 is $1 million.
Violations and lawsuits
There were no lawsuits or bankruptcies filed against the property since September of 2020. In addition, according to city public data, the property has received $50 in OATH penalties in the last year.
Development
There are no active new building construction projects or major alteration projects with initial costs more than $1 million on this tax lot.
The neighborhood
In Ridgewood, the bulk, or 38 percent of the 19.9 million square feet of commercial built space are walkup buildings, with mixed-use buildings next occupying 28 percent of the space. In sales, Ridgewood has had very little sales volume relative to other neighborhoods with $229.6 million in sales volume in the last two years. For development, Ridgewood has had very little major development activity relative to other neighborhoods.It had 455,452 square feet of commercial and multi-family construction under development in the last two years, which represents 2 percent of the neighborhood's built space. There were three pre-foreclosure suit filed among other mixed-use buildings in the past 12 months.
The block
On this tax block, PincusCo has identified the owners of four of the 15 commercial properties representing 24,181 square feet of the 76,581 square feet. The largest owner is David Ogorek, followed by Michael Panagiotopoulos and then Isaac Silverstein.
On the tax block, there was one new building construction project filed totaling 8,373 square feet. It is a nine-unit, 8,373 square-foot R-2 building developed by Tadeusz Wawrzak with plans filed May 6, 2014 and permitted August 11, 2016.
The majority, or 68 percent of the 76,581 square feet of built space are walkup buildings, with mixed-use buildings next occupying 30 percent of the space.
Direct link to Acris document. link