David's Cookies owner plans 104K sf resi tower in Lenox Hill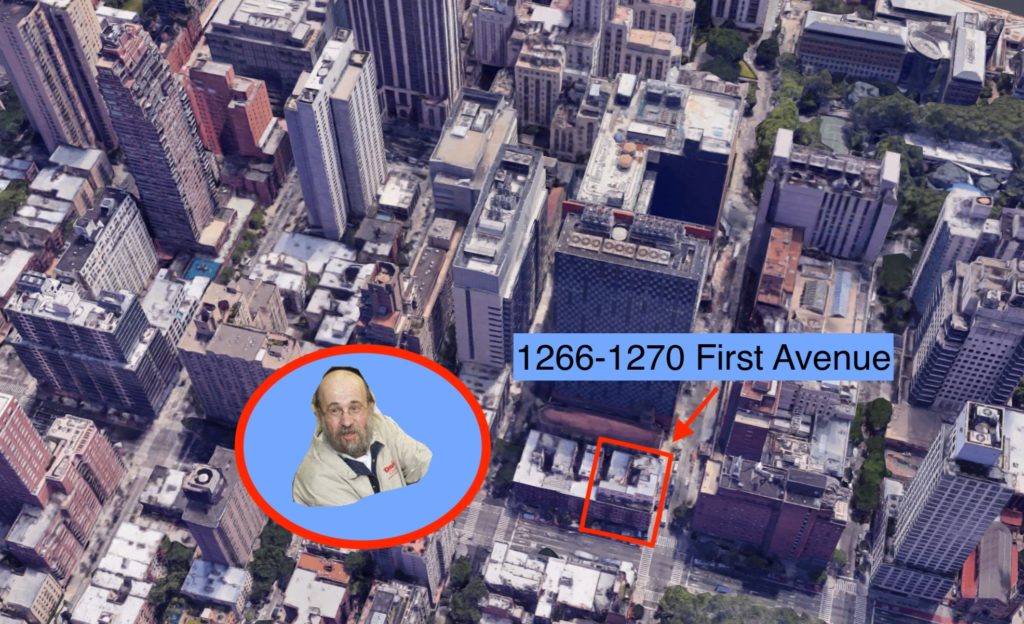 If filed, would be largest new residential building in 11 years along First Avenue in Lenox Hill
By Adam Pincus
The owner of David's Cookies plans to build a new Lenox Hill residential tower with at least 104,517 square feet, at 1266-1270 First Avenue, at the corner of 68th Street, property documents filed yesterday reveal.
If the plans move forward, it would be the the largest residential tower filed in the past 11 years on a 20-block stretch of First Avenue from 59th Street to 79th Street, a review of NYC Department of Buildings filings show.
Ari Margulies, the CEO of the cookie brand's parent company, New Jersey-based Fairfield Gourmet Foods, included the possible size of the building as part of an easement recorded with city records. At the same time, he purchased 24,101 square feet of transferable development rights from a neighboring building at 1274 First Avenue, for $7.15 million, or about $298 per square foot, the records show.
Margulies is no stranger to the neighborhood. His family has owned the buildings since at least the 1980s, property records show. The two Margulies buildings that would be demolished for the new building are 1266 First Avenue, a 21,472-square-foot, eight-story building with 31 residential units; and 1270 First Avenue, an 18,151-square-foot, eight-story building with 29 residential units.
The filing does not indicate if it will be a condominium or rental building, and no permit application for a new building has been filed with the NYC Department of Buildings, so the plans could change before it is formally submitted. The proposed building could be larger through the purchase of additional development rights or though bonus rights, the documents show. However, the agreement between the parties limits the building to 40 stories or less. Margulies did not immediately respond to a request for comment.
The neighborhood has seen tremendous growth driven by medical uses, but development has cooled in recent years.
That could change, as the largest project looming nearby is Extell Development's assemblage on a site on the east side of First Avenue just north of 79th Street — outside the analysis area. Extell has not yet filed a new building permit application for the site.
To get a sense of development near the Margulies site, PincusCo Media analyzed the 42 new building permit applications filed with the DOB since 2000 on either side of First Avenue between 59th and 79th streets.
The largest developers on that 20-block stretch are the hospitals and medical schools such as Weill Cornell Medicine, New York-Presbyterian Hospital and Memorial Sloan Kettering, which have collectively built nearly 3 million square feet of hospital, lab, office and educational space.
The largest residential structure filed and constructed since 2000 was the 343-unit building at 1330 First Avenue, which is owned by New York-Presbyterian. Plans for that were filed in 2006. The next largest buildings are from Sheldon Solow's Solow Realty & Development. He filed One Sutton Place North in 2000 and Two Sutton Place North in 2008 and both are completed.
Not all plans come to fruition — or at least not right away. Cheskie Weisz in 2016 was leading a group that was reportedly in contract to buy a building two blocks north of the Margulies site, and build a 33-story tower at 1361 First Avenue. But nearly three years later, there is no record of Weisz closing on that additional parcel, and no plans have been filed with the DOB.
Nine of the 42 projects were never built and the plans have been formally withdrawn or just abandoned. For example Icon Realty Management filed plans at 405 East 78th Street for a 12-unit building with 9,849 square feet in 2014. And landlord Kamran Hakim planned to build a 154-unit building with about 150,000 square feet, a 2006 filing shows. But neither was ever permitted
Four other projects were filed, withdrawn and then refiled under a separate application and were completed. For example Solow first filed plans for his Two Sutton Place North in 2007. He then withdrew those plans and filed again in 2008, and that building was completed in 2011.
Two projects — both medical center space — remain under development now. One is Maddd Equities' 330 East 62nd Street, filed in 2015 and the other William Macklowe Companies' 323 East 61st Street, filed in 2018.