USE CASE: Find New York City new development construction and conversion projects a developer has built over the last 10 or 15 years.
TIME TO LEARN PROCESS: 30 minutes
TIME TO EXECUTE SEARCH: 15 minutes to 30 minutes
TOOLS: NYC Department of Buildings Open Data Job Application Filings, NYS Attorney General's Real Estate Finance Bureau
SKILLS NEEDED: Filter and sort in Excel or similar application
1) First of course you need to identify the developer you want to track. If you don't yet know the developer, use the PincusCo guide here to identify one. To find additional projects, you will need at least one of the following: the corporate name for the developer, the corporate address or one of the firm's principals. To find the address and principals use Google or follow the above guide and jot down DOB "owner" information as seen on step 21 of the guide, including owner address and owner's first and last name.
2) The first search will be in the DOB. Navigate to the DOB Open Data page. This site is a large record of all construction projects filed with the city since Jan. 1, 2000.
3) To effectively navigate this database, you need to impose filters. To do that, click on the Filter tab, which will open a drop down. Click on "Add a New Filter Condition" . You will see "Job # is." Click on the carrot to the right of Job # to view the drop down menu. It's huge, with nearly 100 options.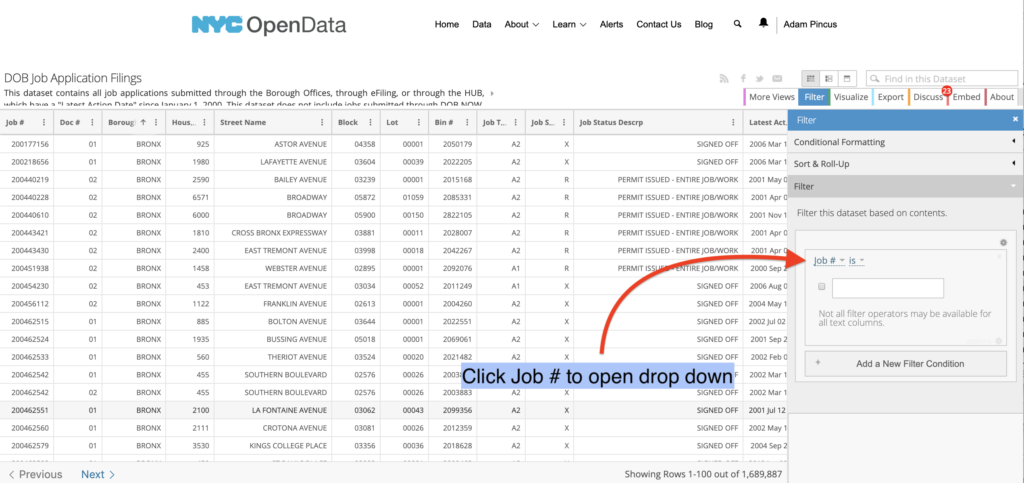 4) The second item on the drop down is Doc #. Select that, and in the field put in 01 then hit enter. Click Add a New Filter Condition, click Job # to open the drop down, and select Job Type. In the first field put NB and in the second put A1. Then hit enter.
5) Click Add a New Filter Condition, click Job # to open the drop down, and select Job Type.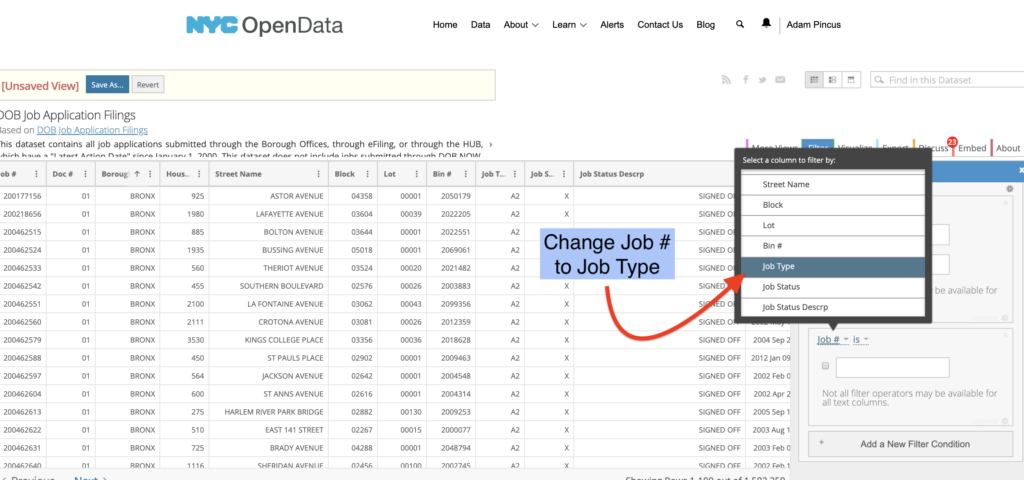 6) In the first field put NB and in the second put A1. Then hit enter.
7) Within this data set, you can search for your developer. Few developers use their corporate name so one dependable search tool is the last name of the principal or owner. You found them on step 21 of the owner guide.
8) For this example, we searched for Simon Dushinksy, principal with the Rabsky Group.
9) To export the results, click the tab Export and choose CSV for Excel to export the projects.
10) Open the Excel file and you see columns C, D and E have the borough and address for each project.
11) Scrolling far to the right, column BU is populated by the search term Dushinsky. In addition, see in column BV, Owner's Business Name, that some projects are identified as Rabsky Development.
12) See column CB, Owner's Phone #, has a very consistent use of the same phone number. The phone number and the business address are additional search records that can be used in the Open Data site to find additional projects. You can search and export using various keys, add them all to a single Excel page, then use the Excel function "remove duplicates" to winnow the rows down to unique projects.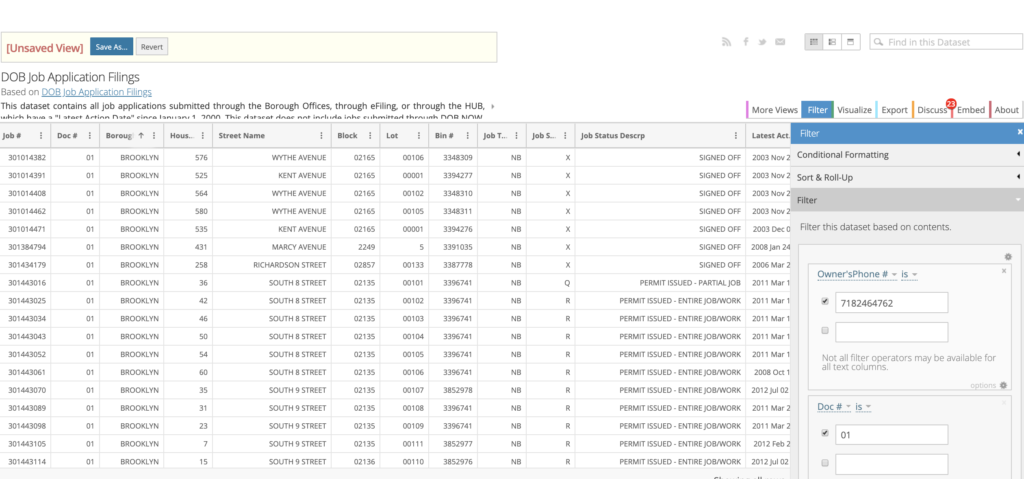 13) Another search option is the corporate address. For example we see under the column "Owner's House Street Name" that Rabsky frequently uses 505 Flushing Avenue and 39 Heyward Street. To search, use the Doc# filter "01", and Doc Type filters "NB" and "A1" and then hit "Add a New Filter Condition."
14) Locate "Owner's House Street Name" and then change change "is" to "contains" using the other drop down option, and add a portion of the address, in this instance "505 Flushing."
15) The second method to identify additional projects is the NYS Attorney General site, here: https://offeringplandatasearch.ag.ny.gov/REF/welcome.jsp Select "Search by sponsor or principal name."
16) Again, we entered Dushinsky, and you can see the options which continue onto a second page. All filings that have IDs that start with CD, CC or C are condominium, condop or co-operative projects, respectively. Filings that start with CP are "testing the market" and are not bona fide condo applications. Those that begin with NA ("no action") are clerical filings that are not related to "for sale" apartment units.
17) You can also try entering company names like Extell, but again most firms don't use the corporate name, so only rarely does that work.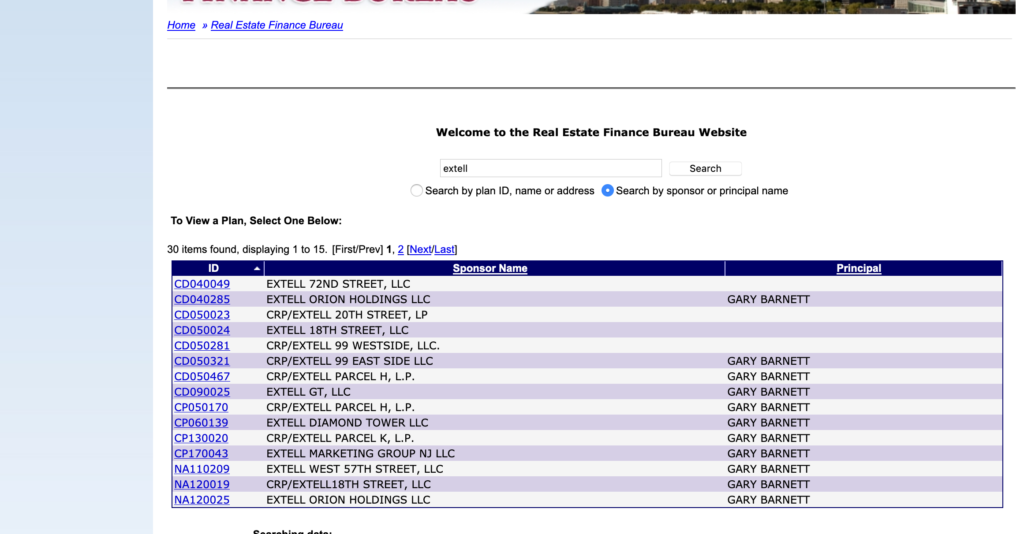 18) For example, Brookland Capital, which has filed for dozens of condos, only shows one here.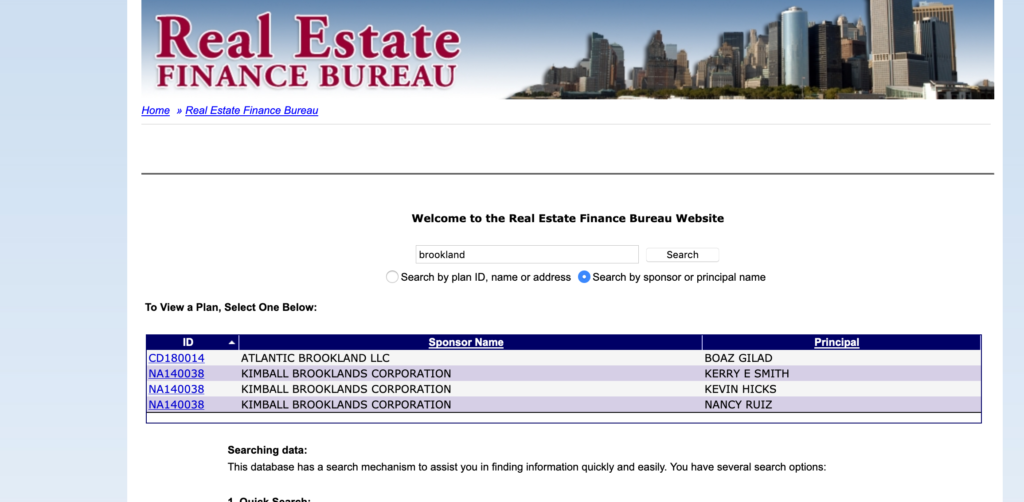 19) But another search using the firm's principal, Boaz Gilad, shows dozens, here.