CAVU Property Group plans 34K sf retail, office building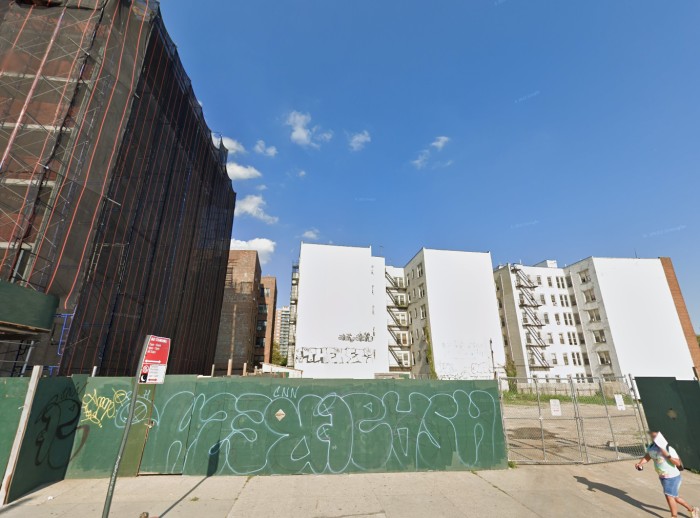 Steven Hurwitz, president of CAVU Property Group submitted a new building construction project for a 33,921 square-foot retail and office building at 2255 Nostrand Avenue in Flatlands, Brooklyn. The plan was filed with the New York City Department of Buildings on May 31, 2023 under job number B00852545. It calls for the construction of a four-story building. The project is described in the filing as: proposed four (4) story mixed use building.
Just to the south on the same tax parcel, Jackson Group is building a 67-unit, seven-story mixed-use building, with the address 2273 Nostrand Avenue.
The property
The parcel has frontage of 226 feet and is 100 feet deep with a total lot size of 22,624 square feet. The zoning is R6 which allows for up to 2.43 times floor area ratio (FAR) for residential. The city-designated market value for the property in 2022 is $1.5 million. The most recent loan totaled $6.5 million and was provided by Popular Bank on May 23, 2023.
Prior sales and revenue
This property was sold by Jackson Group for $12.8 million to CAVU Property Group on May 23, 2023.
Violations and lawsuits
According to city public data, the property has received $3,125 in ECB penalties in the last year.
There were no lawsuits or bankruptcies filed against the property for the past 24 months.
The neighborhood
In Flatlands, The bulk, or 35 percent of the 6.3 million square feet of commercial built space are elevator buildings, with mixed-use buildings next occupying 19 percent of the space. In sales, Flatlands has near average sales volume among other neighborhoods with $119.3 million in sales volume in the last two years and is the 32nd highest in Brooklyn. For development, Flatlands has near average amount of major developments among other neighborhoods and is the 28th highest in Brooklyn. It had 396,098 square feet of commercial and multi-family construction under development in the last two years, which represents 6 percent of the neighborhood's built space.
The block
On this tax block, PincusCo has identified the owners of five of the six commercial properties representing 194,650 square feet of the 194,650 square feet. The largest owner is Alexandra Koeppel, followed by Allan Lebovits and then CAVU Property Group. On the tax block, there were five new building construction projects totaling 298,411 square feet. The largest is a 67-unit, 89,149 square-foot residential (R-2) building submitted by Jackson Group and filed by Gabriel Chehebar with plans filed May 31, 2023 and it has not been permitted yet. The second largest is a 79,232 square-foot business (B) building submitted by Joyland Management and filed by Judy Wolcowitz with plans filed September 28, 2015 and it has not been permitted yet.
The owner
The PincusCo database currently indicates that CAVU Property Group owned at least two commercial properties with 41 residential units in New York City with 46,359 square feet and a city-determined market value of $8.5 million. (Market value is typically about 50% of actual value.) Within the portfolio, the bulk, or 100 percent of the 46,359 square feet of built space are elevator properties, with development properties next occupying 0 percent of the space. They are all located in Brooklyn.
The surrounding
Within a 400-foot radius of 3003 Avenue I, PincusCo identified five commercial real estate items of interests occurred over the past 24 months. One of those five items was a sale which Moshe Greenzweig bought the 114,120-square-foot, 96-unit rental (D1) on 3101 Aurelia Court for $19.3 million from Peter Kraus on April 6, 2022. Of those five items, four were loans above $5 million totaling $65.6 million. The most recent of the four was Ira Russack in which borrowed $14 million from Webster Bank secured by the 38,240-square-foot, two-unit industrial (G9) on 2220 Nostrand Avenue and two other properties on September 19, 2022.
Direct link to the property's ACRIS page and link to DOB NOW portal.