Alexico sues Rockrose, St. Francis College over $160M Brooklyn Heights sale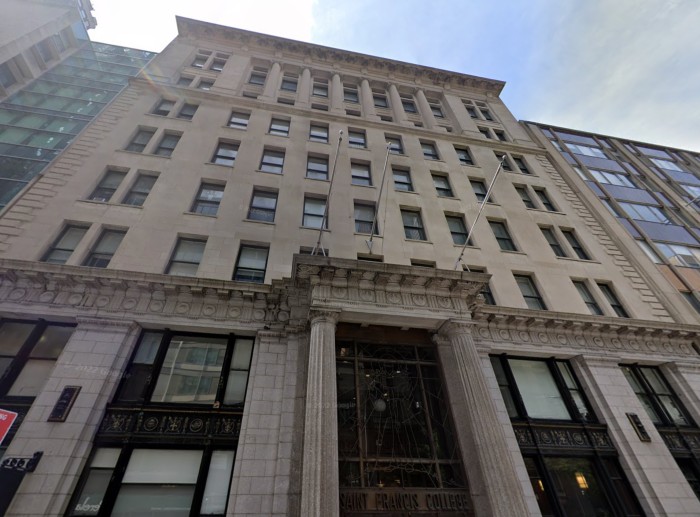 Alexico Group filed a lawsuit in New York State Supreme Court yesterday seeking to undo Rockrose Development's $160 million purchase of the former St. Francis College campus in Brooklyn Heights, alleging Rockrose and the college violated nondisclosure agreements.
Case LINK
Court filings represent the position of one party and are not necessarily accurate or complete.
According to the complaint, Izak Senbahar's Alexico Group alleges it signed a contract April 22, 2022 to buy 180 Remsen Street from St. Francis for $180 million, then discovered doing due diligence an undisclosed height restriction from the mid-19th century that could impact the size of a development on the parcel, and thus impact the purchase price.
In addition, the complaint says Alexico sought equity partners, including the Elghanayan family's Rockrose Development, which allegedly signed and then violated an NDA which included a 16-month prohibition of Rockrose negotiating directly with St. Francis to buy the property. Rockrose declined to comment.
According to the complaint, "In February 2023, after reviewing those materials and touring the Property, Rockrose told [Alexico] that it viewed the Property as an excellent redevelopment opportunity and was interested in partnering on the project. However, Rockrose's proposal for the partnership involved essentially splitting the Property, with [Alexico] developing half as a luxury "for sale" condominium and Rockrose developing the other half as a luxury rental building. [Alexico] told Rockrose that it did not agree to those terms for a partnership, and the parties understood that they would not collaborate on the project under Rockrose's proposal."
Alexico says the height restriction impacted title, and then on March 31, St. Francis sent Alexico a letter "purporting to 'terminate the Purchase Agreement.'"
Then, according to the complaint, Rockrose negotiated directly with St. Francis and ultimately closed on the property for $160 million on March 31, 2023.
The complaint says, "Rockrose also agreed that [it] will not enter into any discussions, negotiations, agreements, arrangements or understandings (whether written or oral) with any other person regarding the Transaction, other than the Disclosing Party for a period of eighteen months" after entering the NDA. Rockrose acknowledged that "money damages may not be a sufficient remedy for any breach of this Agreement and that [Alexico] may be entitled to specific performance and injunctive or other equitable relief as a remedy for any such breach."
Alexico is seeking the release of $10 million in deposits or a transfer of the sale from Rockrose to Alexico.