$300M pre-foreclosure on Jeff Sutton, SLG's 717 Fifth Avenue retail, deal to refi in works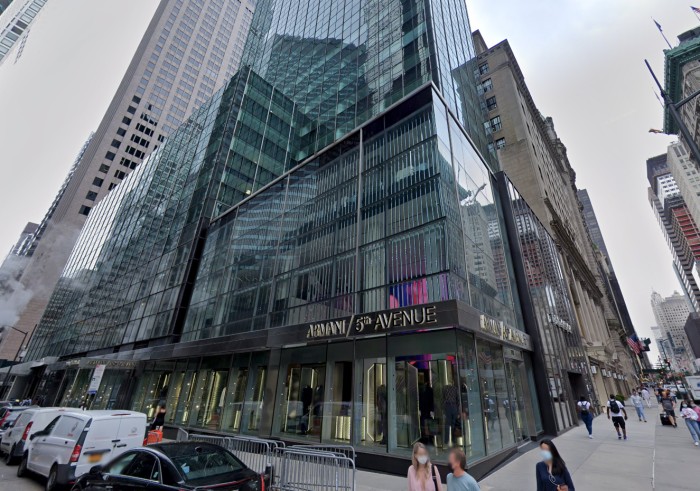 By Adam Pincus
New York Life Insurance Company filed a pre-foreclosure action against retail investor Jeff Sutton and partner SL Green Realty in New York State Supreme Court in Manhattan alleging that the loan it provided in 2012 with an original principal of $300 million that was secured by a retail condominium unit and a smaller office condo unit at 717 Fifth Avenue was in a maturity default, with the 10-year loan's maturity date set for July 10, 2022, and it has not been repaid. On July 25, the lender sent a notice to Sutton that the loan was in default, and noted the parties had signed a pre-negotiation agreement April 19, 2022. The retail units cover approximately 123,000 square feet. Anbang Insurance Group, who's assets are now controlled by the government of China, bought the office condo portion of the building for $415 million in 2015, and it is not involved in this litigation.
According to a source familiar with the financing, the borrowers are in negotiations with both the senior debt, New York Life, and the mezzanine debt, the German lender RREEF, and both lenders are working out language to finalize a deal, but there have been delays including the European holiday schedule. The court filing is a technical necessity for New York Life, the source said. The property is cash-flowing and covering the debt, according to a source.
Jeff Sutton is New York City's top individual retail investor, and ranked a billionaire by Forbes. This action appears to the first pre-foreclosure action against Sutton, who made it through the 2008 crash with no pre-foreclosure actions. Other active retail investors such as Thor Equities, Meadow Partners, JTRE and others have been hit with pre-foreclosure filings in the past two years.
Retail has been particularly hard hit in recent years, both by changes in purchasing habits and the pandemic, but tourism has slowly returned to New York City which will likely prop up sagging retail values.
Court filings are the positions of one party and may not be accurate or complete.
In 2004, Lloyd Goldman, Jeffrey Feil and Jeff Sutton and Stanley Chera bought the retail portion of 717 Fifth Avenue for $200 million, while the office went to Sam Zell's Equity Office. In 2006, Sutton bought out the partners 34 percent stake for $24.9 million and SL Green acquired a 32.75% stake. Now, SL Green now owns a 10.92% stake at 717 Fifth Avenue, following the purchase of the majority of its stake by Sutton in 2012. in 2007, Sutton paid Hugo Boss $25 million to buy out the lease to get higher paying Armani.
According to the filing, the aggregate outstanding principal amount of the loan as of August 22, 2022 was $314.1 million. Jeff Sutton is named individually in the filing, along with the company, 717 GFC, LLC, which owns the units.
Sutton and partner SL Green Realty borrowed $300 million in 2012, and at the same time SL Green reduced its ownership stake to 10.92 percent, which remains at that level, according to the firm's 2021 annual report.
According to the 2012 press release announcing the $300 million loan,"The venture also has received $590 million of new financing in the form of a $300 million, 10-year, 4.45 percent fixed-rate mortgage loan and a $290 million, 12-year, 9.0 percent fixed-rate mezzanine loan. The mortgage loan was originated by New York Life and TIAA, and the mezzanine loan was originated by RREEF."
But it is important to note that the RREEF loan was subsequently refinanced and the mezzanine debt was increased to about $354 million and the interest rate was cut substantially to 5.5 percent, according to a person with knowledge of the financing.
At that time, the condo units were valued at $618 million. TIAA as Nuveen assigned its interest in the loan to New York Life in September 2021. Another of Sutton's buildings is in a maturity default, but that loan, $180 million in CMBS securitized debt, is listed as performing according to a credit agency report and the asset, 1551 Broadway, was appraised in January 2022 at $442 million, above the $360 appraisal value at the time of that $180 million origination in 2011.
According to notes on the 1551 Broadway loan, "The loan transferred to special servicing in November 2021 for maturity default and is flagged as a performing matured balloon loan. The borrower was unable to pay off the loan at the scheduled maturity in July 2021 and entered into a 120-day forbearance. However, the borrower was also unable to repay the loan at the end of the forbearance period and the loan remains outstanding. The property includes a 25-story LED sign and is fully occupied by sole tenant, American Eagle Outfitters, with a scheduled lease expiration in February 2024. The loan benefits from its desirable location in Times Square, which is one of the world's most visited tourist attractions. Prior to the Coronovirus Disease (COVID-19) pandemic, Times Square saw over 65 million visitors annually. As travel restrictions have eased over the past several months, the city of New York is projecting over 55 million visitors by the end of the year. The property was re-appraised in January 2022 at a value of $442.0 million, representing a 22.8% increase from the issuance value of $360.0 million. The resulting current loan-to-value ratio is less than 40.0%, suggesting that even in the event of an adverse liquidation scenario, a loss is unlikely. As of June 2022, servicer commentary states forbearance discussions are ongoing."
Court filing LINK
Direct link to Acris document. link