177K resi tower planned near Vornado's Rego Park mall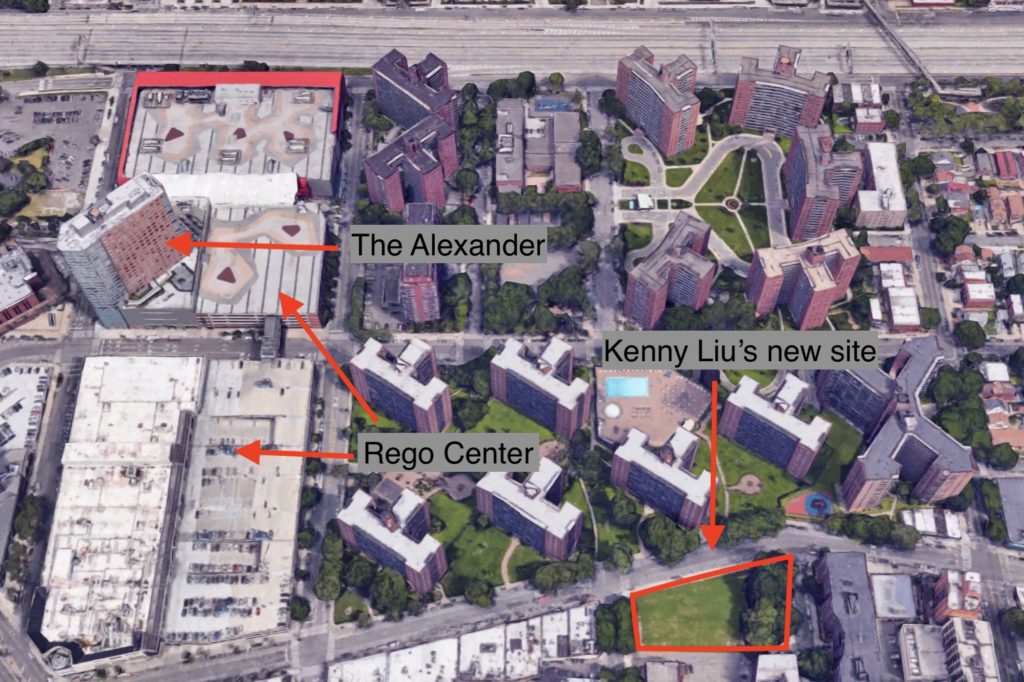 Queens developer Kenny Liu bought parcel and air rights from Catholic church for $30M
By Adam Pincus
UPDATED Feb. 20, 2019, 10:53 a.m. with comment from Diocese of Brooklyn: Queens Developer Kenny Liu plans to build a residential tower with at least 177,376 square feet on a parcel in Rego Park just one block from the large Rego Center, owned by the the real estate investment trust, Vornado Realty Trust.
Liu's company Chuang Heng Rego Park LLC paid $30 million for the vacant site at 98-04 63rd Road, to the Roman Catholic Church of Our Lady of the Angelus, records filed with the city showed. There is no debt recorded for the sale. The lot is just north of the Our Lady of the Angelus parish school, which the diocese announced last year would closed. The school building that remains on the the south side of the block is 19,024 square feet, according to city records.
At the time of the sale, the buyer and seller lots were merged into one zoning lots and then the church transferred its available air rights to Liu, providing the developer with at least 177,376 feet to work with.
If filed and completed, this would be the second largest residential building developed in Rego Park since at least 2000, a review of city Department of Buildings records shows. The largest new residential tower constructed in the past 19 years was Vornado's The Alexander, a 314-unit building atop one of the REIT's Rego Center buildings, at 61-35 Junction Boulevard.
This would be by far the largest building Liu has constructed. Prior to this, his largest building he has built was at 142-38 37th Avenue, an approximately 91,000 square foot condominium building constructed in Flushing.
Liu declined to comment.
The Diocese of Brooklyn said in a statement: "The parish of Our Lady of the Angelus has sold a vacant lot adjacent to the Catholic Academy building, but did not sell the school building."
Liu is very familiar with Rego Park, having built a new 50-unit condo project, Rego Park Plaza at 97-45 63rd Drive, almost directly across 98th Street from the new site. He has built at least one other condo building, at 132-15 41st Avenue in Flushing. The filings did not indicate if this would be a condo or rental.
The sale closed January 29, after going into contract in November 2017. The sale included the legal process to acquire property from a nonprofit entity that requires a petition be filed with the State Supreme Court and a review by the New York Attorney General. The court order approving the sale was issued in February of 2018, city records show.
The sale documents contain restrictions on the property that are often included when the Catholic church sells to private developers, including that the new property with not be used for "the purpose of performing any abortions or euthanasia procedures or providing any counseling or advice related to abortions, birth control or euthanasia," or "the sale, or distribution of any obscene or pornographic material,"